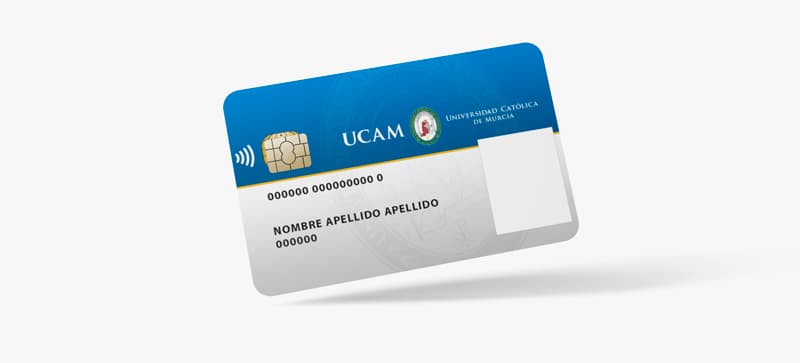 The University Smart Card is a card that identifies you as a UCAM student. It is personal and non-transferable and does not require annual renewal.
Face-to-face and semi-face-to-face students have a physical and virtual card; online students only have the virtual card within the university App.
WHAT IS MY UNIVERSITY CARD FOR?
Attendance control.
Access to some university classes and facilities.
Access to the facilities in extraordinary extensions of schedule, such as Library.
Discounts on university clinics and UCAM services.
Exclusive discounts with university sponsors and collaborators.
Advantages of Banco Santander. (Find out at the Banco Santander branch)
The University is constantly working on new features for your university card.
HOW TO APPLY FOR YOUR UNIVERSITY CARD
If you've never had the card:
When you register, you will receive an email confirming your access codes to the university applications. From that moment on, you will be able to enter my.ucam.edu and upload a passport photo, front and back. The photo will be validated by our system and you will be notified if it does not meet the requirements so that you can upload another one.
If you have lost your card or it is very damaged, you can request a duplicate through the Banco Santander (only Murcia Campus). For Cartagena Campus, contact admissions office.