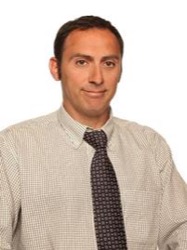 Mr. Juan Alfonso García Roca. Academic Director of the Cartagena Campus of the Universidad Católica de San Antonio
The UCAM Cartagena Campus faithfully follows the principles of a Catholic University Institution in which students are the centre and teaching is done comprehensively, combining the technical and scientific knowledge of each degree with the principles of Christian Humanism.
For this purpose, it has highly qualified teachers accredited by state bodies in Higher Education such as ANECA, as well as modern facilities which cover all the technical needs of each area of knowledge: laboratories, computer rooms, study rooms, library, sports facilities, rest areas and all the services a student needs in an academic environment (catering, wireless network, virtual campus, information service and sports).
The comprehensive training provided by UCAM tutors stands out as well. Tutors monitor students from the beginning of their studies until the end, with the aim of providing them with tools to improve their performance and strengthen their human development.
The UCAM Cartagena Campus, although relatively young, follows the principles which have guided this institution for almost 20 years, with a clear commitment to teaching and research quality, developing and applying active teaching-learning methodologies: small groups, tutorials, teamwork, internships in all studies, dissertations, and the implementation of new technologies. All this puts UCAM Cartagena at the forefront in its adaptation to the European Higher Education Area.
Nine Bachelor's Degrees and two Higher VET (Vocational Education & Training) Programmes (with direct access to university studies) make up the current academic offer of the Campus, together with a Master's Degree in Legal Practice. The academic offer will be increased in the coming years, in full cooperation with the current economic and labour situation, which the city, region and autonomous community demand. A cooperation that UCAM, once again, welcomes in its way of coexisting with society and its needs.
Furthermore, within the spirit of the UCAM and as a key tool for the internationalisation of the Cartagena Campus, there are agreements with numerous European, American, and Southeast Asian universities, giving rise to numerous exchanges, as well as the implementation of the Language School, already present and active in Cartagena.
The Cartagena Campus of the Universidad Católica de San Antonio works for and with students, customising their higher education, with the aim of contributing to the personal and professional success of all the participants in this project, based on the principles on which this Institution is founded.