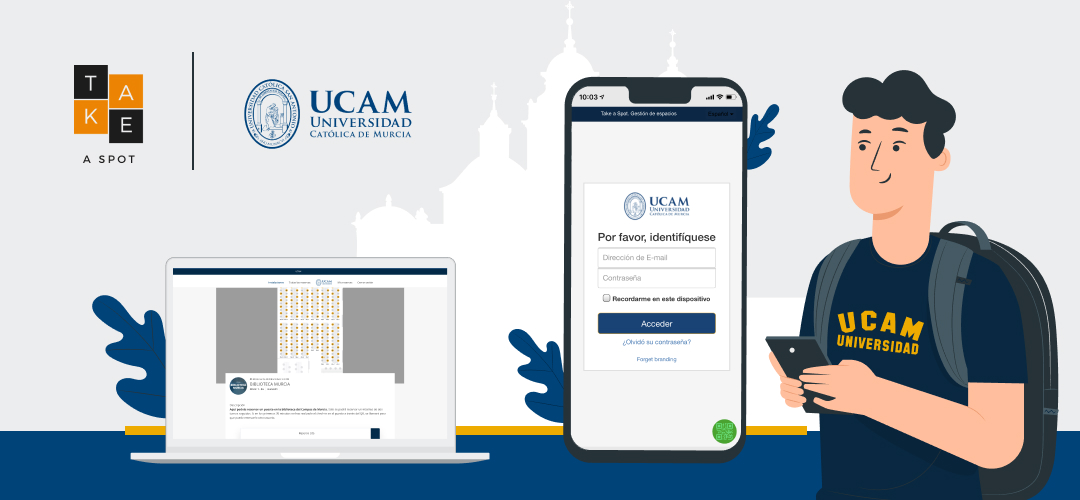 First steps before using the new university space reservation application:
Register through this link: https://go.ucam.edu/biblioteca-registro.
You will receive an email, confirm your registration and download the App.
You will be able to access the application through the web or the mobile application.
Download the Book a Spot spot booking app.

You will only be able to download the app on one device.

Register with your UCAM email address and password.

You will receive an email to confirm your registration. You will need to confirm your account to log in to the app.

If you haven't received the email within five minutes, check if your internet connection is good and whether you have coverage, also check your spam folder. If you still haven't received anything, please contact the on-site staff.

Log in with your UCAM email and password in the app.
Select your Campus (Murcia or Cartagena) and the room you wish to access.
Select the date and time slot available.
Select your seat (row and table). At the top of the application there is an orientation map in which you can see where your spot is located.
WARNING! When you get to your seat, remember to scan its QR code. If you have not scanned it within 30 minutes or if you are late, your booking will automatically be cancelled, and your seat will be made available so that another user can book it.
If you leave before the end of your reservation, re-scan the QR code at your seat to make it available so that it can be booked by someone else. If you stay until the end of the reserved slot, you do not need to scan the QR code again.
Access the application https://app.takeaspot.net/ with your e-mail address and password. If you have not created the password yet, you must do it at https://go.ucam.edu/registro-reserva-espacios
Select the los Jerónimos Campus.
Access the VR Goggles room.
Select the date and one of the time slots available.
Then, you must select one of the three areas available.
When you reach your area, remember to scan the QR code. If you do not scan it within the first 30 minutes, it will be available for other users to reserve it.
If you want to rate the application or propose any improvement, we would love to know.