UCAM, the world's university with the highest number of athletes competing in the Tokyo Games
The members of the Spanish delegation linked to UCAM Universidad Católica de Murcia are 79: 61 Olympic athletes and 12 Paralympic ones, apart from three technicians and three doctors. It exceeds its participation in the Olympic Games of Rio, which were the result of the UCAM-COE model promoted by its presidents, José Luis Mendoza and Alejandro Blanco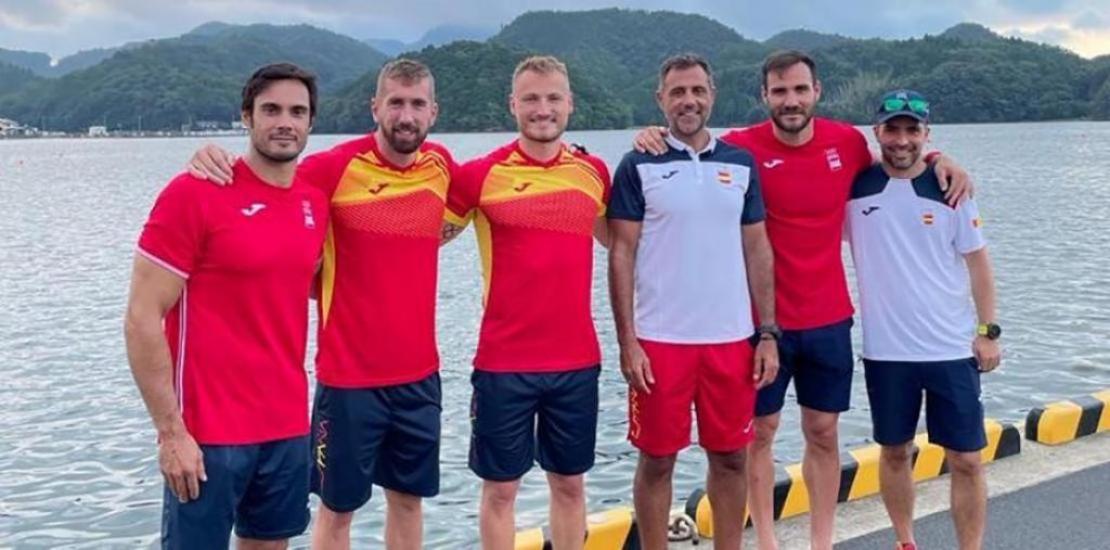 The four members of the Spanish K4 are linked to UCAM: Rodrigo Germade, Carlos Arévalo, Marcus Cooper Walz and Saúl Craviotto
Tue, 27/07/2021 - 14:40
A few hours before the censer of the Olympic Stadium in Tokyo is lightened up, the majority of the Spanish delegation is already in the Japanese capital. 79 member of the national team are linked to UCAM, the world's university with the highest presence rate in these Games. In total, there are 61 Olympic athletes, 12 Paralympic ones (who will compete at a later date), three doctors and three technicians.
The sport with the highest rate of UCAM representation will be athletics, with eleven athletes: María Pérez, Raquel González, Miguel Ángel López and Diego García Carrera (20 km race walking), Luis Manuel Corchete (50 km race walking), Mohamed Katir (5000 metres), Fernando Carro (3000-meter steeplechase), Jorge Ureña (decathlon), Belén Toimil (shot put), Sergio Fernández (400 metres hurdles) and Orlando Ortega (110 metres hurdles).
In canoeing there will also be a good number of representatives from UCAM, who will also have numerous chances to win medals: Iñigo Peña and Paco Cubelos (K2 1.000 metres); Saúl Craviotto, who goes after his fifth Olympic medal, Marcus Cooper, Rodrigo Germade and Carlos Arévalo (K4 500 metres); Cayetano García and Pablo Martínez (C2 1.000 metres); Antía Jácome (C1 200 metres) and Teresa Portela (K1 200m), for what will be her sixth Olympic Games. Maialen Chourraut, who has already won two Olympic medals (gold in Rio and bronze in London), will also be competing in canoe slalom.
Mireia Belmonte (swimming) and Ona Carbonell (synchronised swimming) lead Spain's and UCAM's aspirations in the pool, where also Hugo González, current European champion, and Jessica Vall will compete as well.
Karatekas Damian Quintero and Sandra Sanchez, who have been collecting international medals for several years, arrive with high aspirations of winning a medal. Lydia Valentín (weightlifting), Mario Mola (triathlon), Ray Zapata (gymnastics) and taekwondists Raúl Martínez and Javier Pérez Polo also appear in the list of likely medal winners.
There are many UCAM athletes in Tokyo in each team: Laura Gil and Leo Rodríguez (women's basketball), María López, Lola Riera and Bea Pérez (field hockey), Gedeón Guardiola, Eduardo Gurbindo, Ángel Fernández and Lara González (handball) and Maica García, Irene González and Alberto Barroso (waterpolo).
The list of athletes linked to UCAM also includes Pablo Abián (badminton), Carlos Llavador (fencing), Niko Sherazadishvili, Ana Pérez, Alberto Gaitero and Francisco Garrigós (judo), María Xiao and Álvaro Robles (table tennis), Fátima Gálvez and Alberto Fernández (Olympic shooting), Liliana Fernández and Elsa Baquerizo (beach volley), Alejandro Valverde and Ane Santesteban (cycling) and Cristina Pujol and Joel Rodríguez (sailing).
Mireia Belmonte and Saúl Craviotto: Spain's flag bearers
Tomorrow, Friday 23 July, at the opening ceremony, an unprecedented fact in the history of the Olympic Games will take place, since for the first time the delegations will be able to be headed by two flag bearers, a man and a woman. In the case of Spain, said responsibility fell on two athletes of UCAM, the ones with more Olympic medals in the Spanish team: Mireia Belmonte (UCAM Natación Fuensanta) and Saúl Craviotto (UCAM Piragüismo Murcia).  
Doctors and technicians
The COE delegation also includes an important representation of doctors and technicians linked to UCAM. Juan Francisco Abellán, teacher of the Bachelor's Degree in Medicine of this university, will be once again the doctor of the Women's Basketball Team; José Antonio Carrillo, president and trainer of UCAM Athleo Cieza, is part of the technical team of the Athletics Federation; Jesús del Moral is the trainer of the Karate Team and Silvia Erdelyi, of UCAM Cartagena TM, is the trainer of the Table Tennis Team.
The Paralympics will compete at a later date
The Paralympic Games will be held from 24 August to 5 September. However, we already know the definitive list and twelve UCAM athletes won their place. In swimming Teresa Perales, Sarai Gascón, José Antonio Marí and David Levecq, the athlete Gerard Descarrega and his guide Guillermo Rojo, the table tennis player José Manuel Ruiz and five UCAM Murcia BSR players: Sonia Ruiz, Vicky Alonso, Isabel López, Lourdes Ortega and Beatriz Zudaire. Dr. Tomás Fernández, professor of the Master's Degree in Sports Traumatology at UCAM, will be the head doctor of the Spanish delegation and Dr. Patricia Núñez, a student of the same Master's Degree, will assist the men's wheelchair basketball team.
The great success of Rio 2016
Five years ago, the model resulting from the alliance between UCAM Universidad Católica San Antonio de Murcia and the Spanish Olympic Committee was internationally confirmed with the incredible results obtained in the Olympic Games of Rio. Nearly sixty UCAM athletes attended the event, winning 24 medals (fifteen Olympic and 9 Paralympic ones) and twelve diplomas (9 Olympic and 3 Paralympic ones), making UCAM the second in the world with the most Olympic medals in Rio, only behind Stanford, which won 27. This model goes far beyond the economic support to the athlete, as it is fundamental for them to study at UCAM and receive scholarships for their degrees. As a consequence of that, in Tokyo athletes are competing who belong to the project UCAM-COE and who are studying very diverse degrees such as Medicine, Computer Science, Law, Business Administration and Management, Criminology, etc., and numerous post-graduate programmes.