UCAM to train 456 teachers from the Philippines in Sports Sciences
The project focuses on university teachers and has been made possible thanks to an agreement with the University of the Philippines and the Department of Education of the Asian country.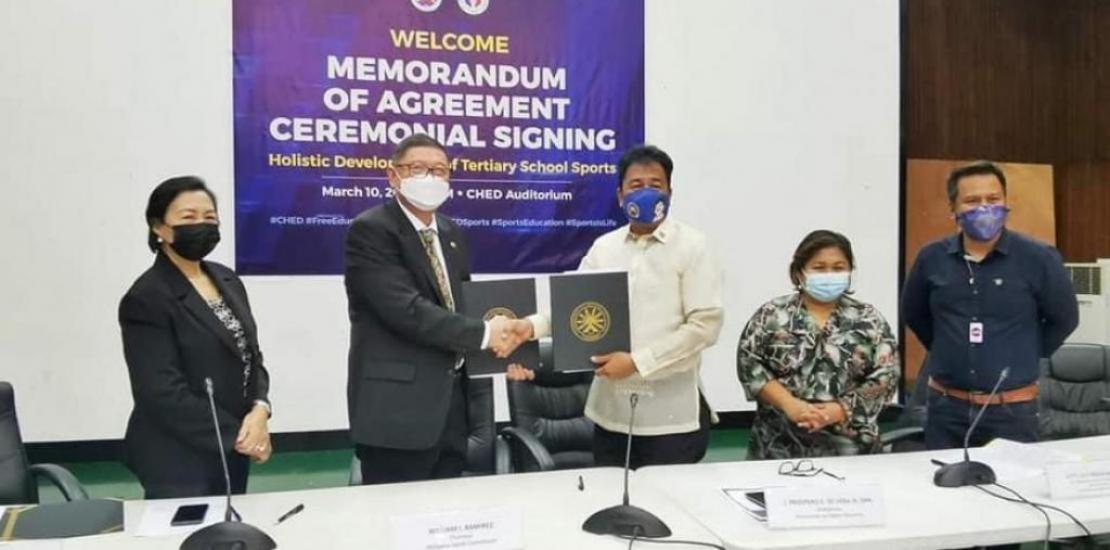 In the center of the picture, William Ramirez (left), chairman of the Commission on Sports, and Prospero E. De Vera III, chairman of the Commission on Higher Education of the Philippines.
Fri, 09/04/2021 - 11:48
The Commission on Higher Education (CHED) and the Philippine Sports Commission (PSC) have selected the Catholic University of Murcia to participate in their plan for the International Continuing Professional Education (ICPE) of its faculty. Thanks to this agreement, UCAM will train 456 Filipino teachers from more than 100 state universities in various subjects of Sports Science: coaching, sports event management, sports medicine and sports facility management.
In the first phase, the training will be online, through webinars and other digital resources and strategies. The program will last thirty hours and will be taught by professors from the Faculty of Sport of the UCAM. The second phase will be face-to-face, once the current pandemic situation is over, so students will travel to Spain to train at the UCAM facilities applying everything they have learned in the distance mode. This part of the training is expected to be delivered in 2022.
This project has been possible thanks to the agreement that the University has with the University of the Philippines and the Ministry of Education of the Southeast Asian country, where UCAM has a great prestige especially in the field of Sports Sciences.