UCAM supports new technologies and put them at the service of athletes
The Catholic University of Murcia held a new workshop of the European project ESTPORT to improve and exports its mentoring model to athletes in the rest of Europe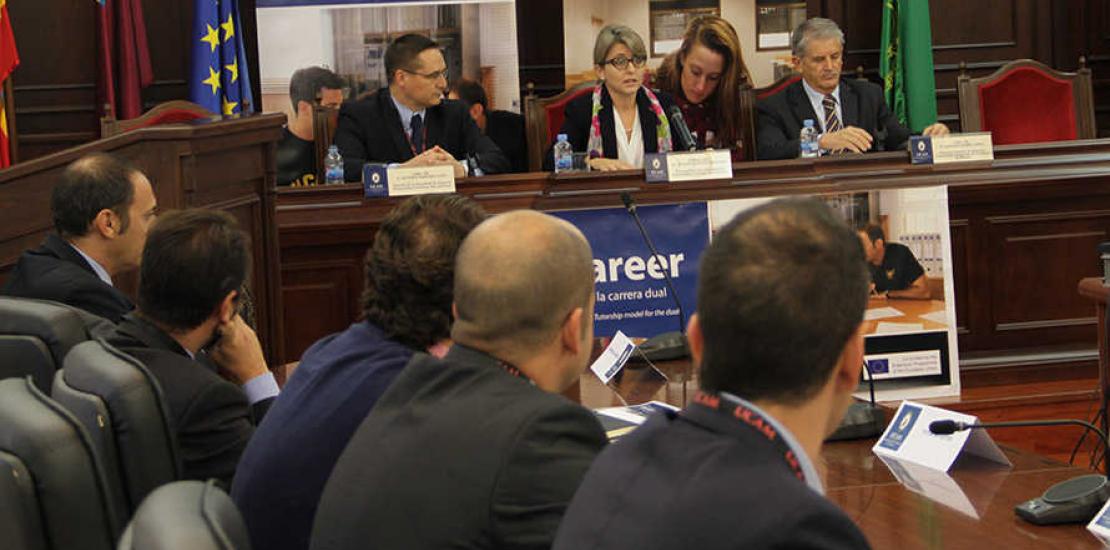 Thu, 05/11/2015 - 18:25
The Catholic University of Murcia organised a new workshop of the European project ESTPORT, advocating the transfer of its mentoring model to athletes of other European universities. This workshop, entitled "New technologies in dual career" is also held in other participating universities: the University Foro Italico of Rome (Italy), the University of Thessaly, (Greece), the University of Malta and Leeds Trinity University (United Kingdom). Afterwards, the experiences of each workshop will be shared and added to the manual currently in development. Estrella Nuñez, vice dean of Research at UCAM; Alonso Gómez López, general director of Sports of the Region of Murcia; and Antonio Sánchez Pato, dean of the Faculty of Sport at UCAM took part in the opening conference.
Sánchez Pato highlighted the importance of taking advantage of the possibilities that advanced technologies allow to help athletes in their studies: "We will work on the role of new technologies in UCAM's model. We will revise the platforms, the virtual campus and the new tools that we offer to our students-athletes so they can complete their studies and so the coaches, professors and sport tutors can participate in their formation. UCAM supports new technologies and put them at the service of athletes".
Gómez López stressed the work done by the University for years and how it is already a reference outside our frontiers: "I want to congratulate UCAM for this kind of events and for the work done in facilitating the access to studies to athletes while they are training and competing. This model turned UCAM into a national and international reference". 
Athletes, professors, coaches and sport tutors took part in the seminar and shared experiences on dual career. Participants included, among others, Pablo Rosique, general director of Sports at UCAM; José Antonio Carrillo, coach of the UCAM Athleo of Cieza y technician of Miguel Ángel López, race walker; Iulia Necula, player of the UCAM Cartagena table tennis and graduated in Tourism at UCAM; or Ángel Robles, captain of UCAM Murcia CF and student of the Degree of Physical Activity and Sports Sciences.