Spanish Olympism gains momentum for the 2021 Olympic Games in Tokyo.
The presidents of the Spanish Olympic Committee (COE) and of UCAM, in a virtual meeting held this Thursday, reaffirmed all their support to these athletes, listened to their concerns and exhorted them before the challenge<br /> <br /> &nbsp;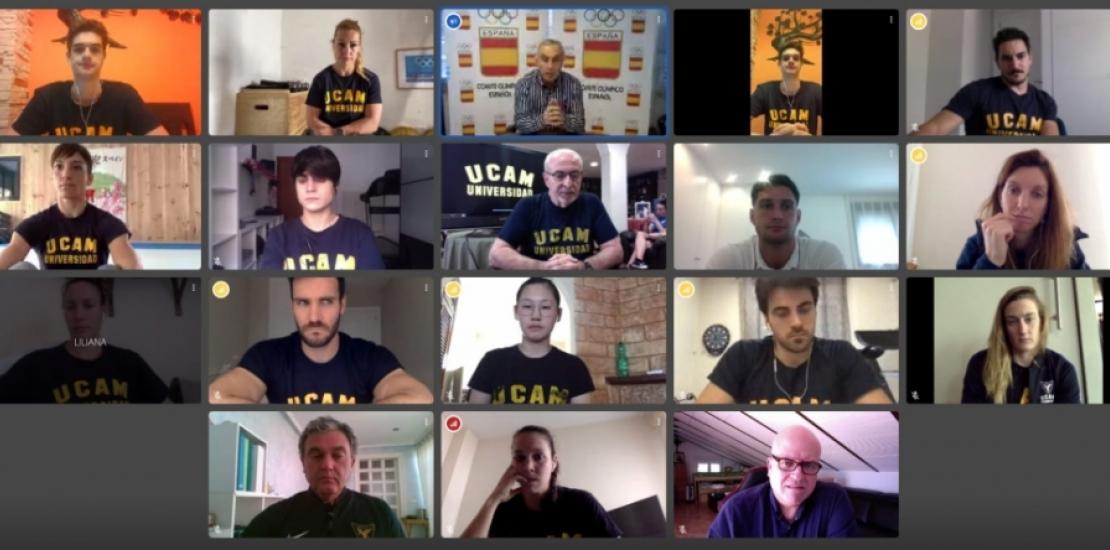 Videoconference between the COE and UCAM presidents with thirteen Olympic athletes
Tue, 05/05/2020 - 11:31
A wide representation of the most honoured and admired Olympic athletes of our country held, this morning, a virtual meeting convoked by Alejandro Blanco, president of the Spanish Olympic Committee, and José Luis Mendoza, president of UCAM Universidad Católica San Antonio de Murcia, who gave the athletes all their support and motivation to face the final stretch before 23 July 2021, the date on which the 2020 Olympic Games of Tokyo will start, after the postponement due to the coronavirus pandemic. At the same time, they listened to their worries and insisted on the fact that the athletes take extreme care of their health.
"Focus on what you are capable of, because you are the best in the world at it; isolate yourself from the noise and doubts, and successes will arrive in Tokyo. Regardless of the result, the path is worth it", said Alejandro Blanco to the athletes. On his part, José Luis Mendoza reaffirmed the support of UCAM, both economic and for their studies: "Be calm and do not hesitate to call for whatever you need, because you are a gift for our country, and the alliance between COE and UCAM is stronger than ever".
The athletes, who were thankful for the motivational meeting, showed their concern for the limitations that the administration maintains in some sports with regard to resuming trainings and to access to coronavirus tests, although they have no symptoms. The two managers reaffirmed their willingness to solve or manage these and other requests.
Saúl Craviotto (canoeing: two gold, one silver and one bronze), Mireia Belmonte (swimming: one gold, two silver and one bronze), Lidia Valentín (weightlifting: one gold, one silver and one bronze), Sandra Sánchez (karate: world champion and no 1 of the world ranking), María Xiao (table tennis: world champion in the Mediterranean Games), Elsa Baquerizo (beach volley: Olympic athlete in London and Rio and medallist in the international circuit), Francisco Cubelos (canoeing: world championship runner-up), Javier Pérez Polo (taekwondo: world championship runner-up), María Pérez (race walking: European champion), Niko Shera (judo: world champion), Liliana Fernández (beach volley: Olympic athlete in London and Rio and medallist in the international circuit), Damián Quintero (karate: world championship runner-up and no 1 in the world ranking) and Laura Gil (basketball: Olympic runner-up and six medals in absolute international competitions) participated in this meeting. The president of UCAM was accompanied by the general director of Sports of the University, Pablo Rosique, and the director of Communication, Antonio Semitiel.