Nearly 200 UCAM volunteers help the people affected by DANA storm
Students from different countries and regions call for "more help because there is still much to be done and all hands are few to remove mud from houses and streets, as they will not be able to recover either furniture, household appliances or many necessary things". The action has been carried out today and the volunteers plan to repeat similar actions in the coming days.<br /> <br /> &nbsp;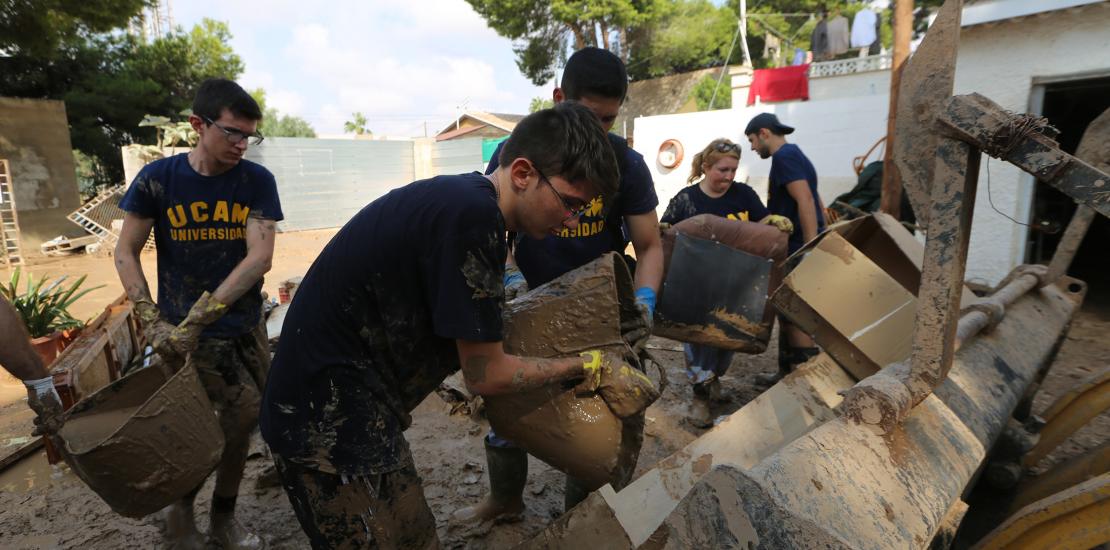 Some UCAM volunteers helping to clean the affected area of Mar Menor done by DANA Storm
Wed, 25/09/2019 - 14:13
Finally, nearly two hundred students of the Catholic University of Saint Anthony are participating today in the removal of mud, rubble and irrecoverable belongings from streets and around twenty houses affected by the DANA storm in the Bahía Bella residential area in the city of Cartagena, next to Los Alcázares.
There were not only students from different Spanish provinces, but also many international students such as the Russian Andrey Iakovenko who explained that "the UCAM offered us the opportunity to help people because of what happened with the rains and we realised that our duty is to help those in need who cannot recover all this on their own and who do not have resources to face this problem".
For his part, the student of Business Administration and Management, Pedro Mendoza, who coordinated the initiative, explained that "last week I came with a group to help in this area and we saw the situation, so we proposed that this week more help was sent thanks to the UCAM. But there is still much to be done and all hands are few for what is needed here. Half of the work is done, but the other half is missing, so we are already considering returning again because today's initiative has had a response up to the circumstances". 
Neighbours, like Francisco Carrillo, have thanked the volunteers for their dedication "because thanks to these keen people we will surely manage to at least get the mud out of the house".
Some testimonials from UCAM students at the affected zone: https://www.youtube.com/watch?v=sotYpWNd3S4