Izpisua announces a breakthrough in metabolite treatment for muscle injuries that will revolutionise medicine
At an event at the COE (Spanish Olympic Committee), the UCAM professor of Developmental Biology explained that these substances, which are from the body itself, make it possible to reduce recovery time by half, increase and prolong the functionality of muscles, both in elite athletes and in the general public.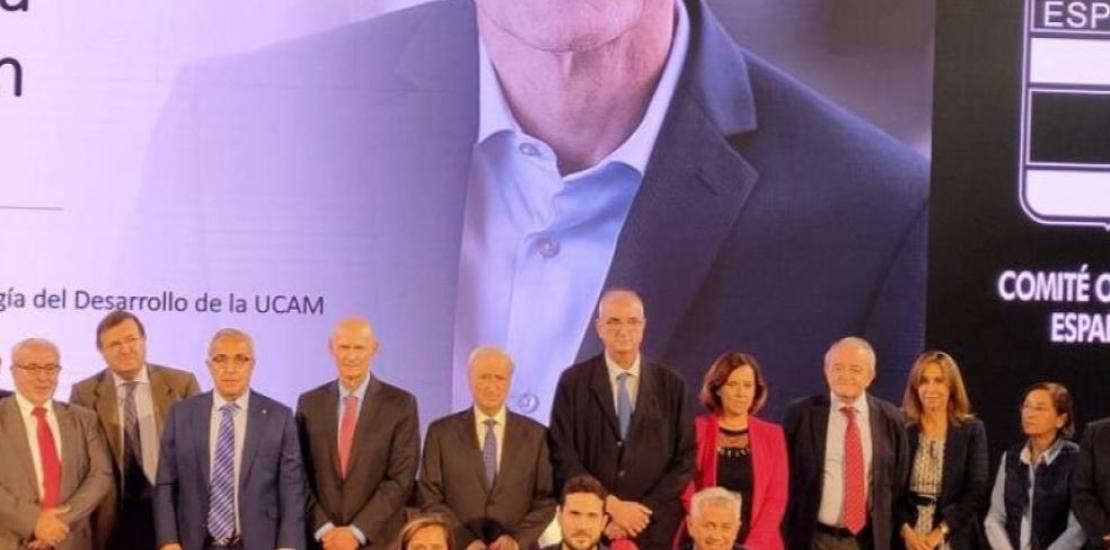 Juan Carlos Izpisua and the presidents of UCAM and COE, together with members of the educational institution and members of the health and sports world after the event.
Tue, 19/10/2021 - 09:48
Muscle regeneration is one of the great challenges in sports medicine and gerontology, despite advances in treating muscle injuries or degeneration due to ageing. This may change in the coming years thanks to research promoted by the Universidad Católica de Murcia led by Juan Carlos Izpisua, professor of Developmental Biology at UCAM and professor at the Salk Institute in La Jolla (USA). Today, at a conference held at the Spanish Olympic Committee before scientists, doctors and athletes, he unveiled his results.
During his talk, Dr Izpisua said that the aim of his work is to regenerate injured muscle tissue, reducing recovery time by half: "We can manage making recovery times much faster, and now we have discovered that it can also be more effective. In the laboratory we have reprogrammed the cells that started to fail due to the ageing process, making the treated mice run and move much more, as well as live much longer". 
"In the laboratory, we have reprogrammed the cells that started to fail due to the ageing process, making the treated mice run and move much more, as well as live much longer".
With these results, the UCAM professor assures that "not only do we shorten the recovery period, but we could also maintain our active sporting life for much longer. This breakthrough could reach the rest of society and be beneficial to everyone, not just top-level athletes.
One of the main innovations he presented in his lecture was the treatment of mice with metabolites: "Simply adding metabolites to water is sufficient to improve the muscle tissue of the treated mice. Metabolites are endogenous compounds that are generated in our body and are naturally involved in cell and tissue functioning. What we do in the lab is redirect their function to the injured tissue to improve its functioning. It's like taking aspirin. It's relatively simple compared to other treatments, and what we are ultimately looking for is a process that has fewer side effects for the cell than cell reprogramming, but with the same benefits.
José Luis Mendoza, president of UCAM, Alejandro Blanco, president of COE, and Estrella Núñez, vice-rector of Research of the Universidad Católica de Murcia, took part in the event together with the researcher.
Last season alone around 70% of injuries were muscular in the First Division of football (La Liga Santander). Hence, shortening recovery time has always been a historic challenge. This breakthrough would also be of great benefit to the entire population, especially the elderly who gradually suffer a decrease and atrophy of their muscle mass and whose recovery time is much longer than that of the younger population.
José Luis Mendoza praised the work of Dr. Izpisua and said that "our alliance with the COE is based on our commitment to people. That is why we also promote research at the highest level, which will benefit athletes, but also the elderly".
Alejandro Blanco stressed that "Izpisua is one of the best scientists in the world who, together with the Universidad Católica de Murcia, through its funding and its commitment to society, is achieving great breakthroughs in science. What has happened today at the COE is a global milestone as science and high-level sport come together". 
Estrella Núñez has highlighted Izpisua's great research background and has announced that this Friday the University will be taking another important step forward: "We will inaugurate HiTech, our high-tech incubator; a facility created to strengthen the ties between the university and businesses, and promote entrepreneurship and research in health, sports and food at the highest level". 
A number of personalities from science and sport world in Spain attended the event, including Dr. Pedro Guillén, honorary dean of the UCAM Degree in Medicine and director of the Cemtro Clinic; Dr. José María Villalón, head of the Medical Services of Atlético de Madrid; José Antonio Gutiérrez, director of the Fundación Gadea por la Ciencia; as well as Olympic athletes such as Paco Cubelos (canoeing - Business student), Lola Riera (hockey - Medicine student), Raúl Martínez (taekwondo - Medicine student), Artemi Gavezou (gymnastics - Business student); and Pablo Abián (badminton).