'Digicontext' 2021 analyses the rise of streaming and esports platforms
José Luis Mendoza, Director of Institutional Relations at UCAM and Ismael Marín, Director of Communication at UCAM Esports Club, took part in the seventh edition of the congress.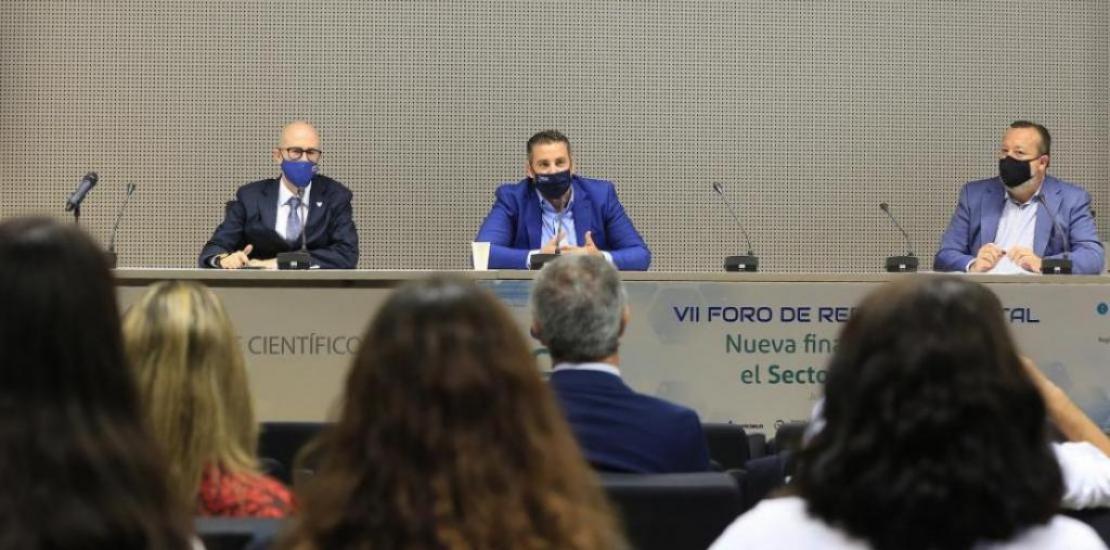 From left to right, Ismael Marín, José Luis Mendoza and Juan Antonio de Heras, during one of the round tables at the event.
Wed, 29/09/2021 - 09:08
The 'Digicontext' reflection forum held its seventh edition at the Parque Científico Murcia (Murcia Science Park). At the congress, several experts in the field analysed the new entrepreneurial opportunities related to the audiovisual sector, as well as the rise of streaming platforms and esports. The meeting was organised by the Asociación de Empresarios de Producción Audiovisual de la Región de Murcia (Association of Audiovisual Production Entrepreneurs of the Region of Murcia), also known as Apromur.
Under the title 'New funding for the Audiovisual Sector', this edition of 'Digicontext' featured experts such as José Luis Mendoza García, Director of Institutional Relations at UCAM; Luis Miguel Calvo, Head of Content at You First Sports; Javier Valero, Director of Corporate Development at Grupo Secuoya and Javier Martínez Gilabert, General Director of IT and Digital Transformation, among others.
During the round table on 'Opportunities for the Audiovisual Sector', José Luis Mendoza stated that "audiences, investment and industry are the three pillars on which the esports sector currently stands". He added that esports and audiovisuals go hand in hand, "this environment is changing the social experience on the internet and this allows us, in a university like ours, to open lines of research, as well as new opportunities of transformation for the audiovisual sector".
On the other hand, Ismael Marín, Director of Communication of UCAM Esports Club, explained that the production companies are the ones that have to take a step forward and adapt to all this content that is being produced on the internet: "The sector has evolved and platforms such as Twitch are the future of new audiovisual content".
Digicontext' is supported by the Fundación Integra and forms part of the Sicarm (Sociedad de la Información en la Región de Murcia) training activities on new technologies.
Pioneering esports university
Created by the Universidad Católica San Antonio de Murcia in 2016, UCAM Esports Club is the result of the fusion of competition, teaching and research. Backed by the entire infrastructure of the University, it has consolidated a solid Club, with its own identity, which aspires to become a benchmark within the esports industry.