UCAM takes aid to Ukraine and assists refugees
Through its University Platform for Peace, it will send several truckloads of clothes and non-perishable food items this Wednesday. It will also collaborate to assist Ukrainians, in coordination with the Autonomous Community of Murcia and humanitarian organisations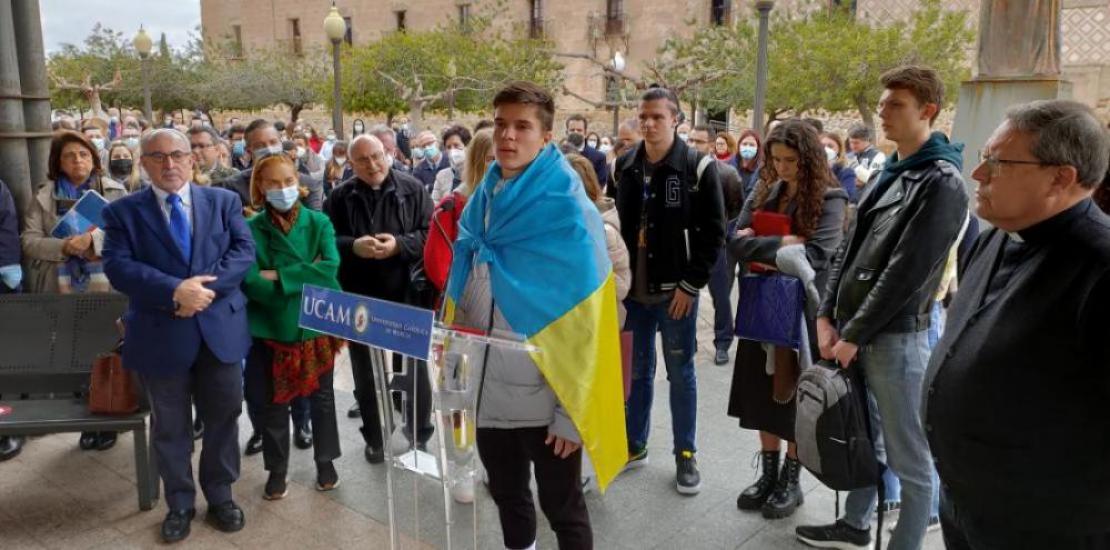 Ilia Polischuk, Ukrainian Exchange student, during the act for the peace celebrated at Los Jerónimus Campus.
Mon, 14/03/2022 - 19:51
The Universidad Católica de Murcia, through its recently created University Platform for Peace, is already helping the victims of the war in Ukraine. In addition to various initiatives launched this week, several lorries filled with the humanitarian aid, which is being collected these days, will leave for Poland to deliver clothes and non-perishable food items to the organisations that are already operating on the ground. Another initiative, in coordination with the authorities, is to facilitate the hosting of Ukrainian refugees in the Region of Murcia, including relatives of Ukrainian students at UCAM. 
At the same time, the University Platform for Peace continues to work to channel donations through its website and has opened a bank account for those who wish to collaborate with a financial donation ES39 0049 0166 5829 9000 4028. It is also possible to collaborate by volunteering or providing services, by registering through a form on the platform's website.
COE and INCYDE
The Spanish Olympic Committee has also joined forces with the Platform and, together with the INCYDE Foundation, will work to find mechanisms which facilitate the employment of Ukrainians arriving in Spain. 
José Luis Mendoza, president of the UCAM, recalled that the University has a community of Ukrainian students who are going to receive scholarships to finish their studies at no cost, and who will be helped so that they can be reunited with their families in Murcia: "We are we are fully committed, body and soul, to this mission of helping and serving, while we hope that this situation is resolved for the good of humanity".