UCAM celebrates its 1st Orientation, Employment and Postgraduate Week
During these days, students are informed of the specialisation opportunities offered by the University and the profiles demanded by the numerous companies participating in the event
Wed, 24/05/2023 - 09:24
What kind of professionals are companies looking for today? In which fields is it advisable to specialise in order to have more opportunities? How should you prepare for a job interview? How can you make an appealing 'curriculum vitae'? These and many other questions are common among university students who are finishing their studies. As there is no one-size-fits-all answer, Universidad Católica de Murcia has organised the 1st Orientation, Employment and Postgraduate Week, which was inaugurated in the cloister of the Los Jerónimos monastery this morning. María Dolores García, UCAM president; María Isabel Fortea, general director of Universities and Research of the Regional Government; Josefina García, rector of the Universidad Católica; Manuel Ruiz, Vice-rector of Quality and Academic Planning, and a broad representation of deans and vice-deans from all the faculties of the educational institution attended the event.
Throughout the week, students will receive first-hand information about the specialisation opportunities available through the postgraduate courses. On Thursday 18, on the ground floor of the monastery, the Employment Forum will be held. Students will be able to visit the stands of Murcia's leading companies which will be there to receive the CVs of all those interested and to inform about the different selection processes. Informative sessions, workshops and round tables will also be held to enhance and improve their skills when looking for a job.
María Dolores García thanked the entire teaching staff for their commitment to academic excellence offered to students, and reminded them that 'at this University, in addition to obtaining a degree and the best preparation for employment, we are committed to accompanying and helping our students and providing them with values in christian humanism so that they have an integral education which goes beyond the technical knowledge of each field'.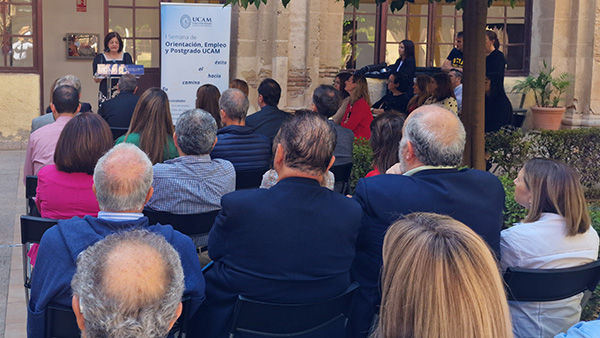 Along these lines, Manuel Ruiz, Vice-rector of Quality and Academic Planning, pointed out that 'the student is at the heart of UCAM; they are our main priority'. Therefore, the idea of this event is to strengthen their readiness so as to face what is to come after they obtain their university degree: 'This week, they will have many activities for each faculty with talks, round tables and workshops so that they know what the job offers are like in each sector, how to apply for a job and how to position themselves as interesting candidates for international companies which work online'.
From the Regional Government's side, María Isabel Fortea launched some very valuable recommendations for university students: 'It is very important to specialise in fields where there is a shortage of graduates. In technical careers, where scientific progress is advancing at a meteoric rate, there are many gaps to fill, especially for graduates who already have such a strong practical training which is highly valued in the business world'.