UCAM athletes shine at the Gala of the Spanish Olympic Committee
The UCAM - COE family, which stood out at Tokyo 2020 having won 23 medals and 31 diplomas, was prominently present at the event, which was presided over by Their Majesties the King and Queen of Spain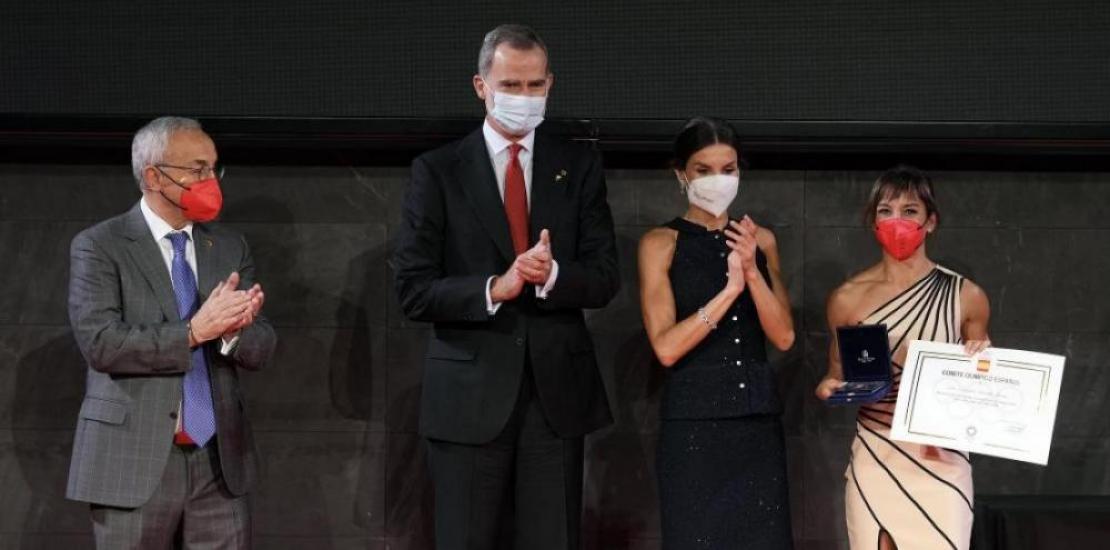 Sandra Sánchez, gold medallist in Tokio 2020 and UCAM athlete, received a recognition from the hands of the Spanish Royal Family.
Thu, 16/12/2021 - 17:51
As every December, the Goyeneche Auditorium, located at the headquarters of the Spanish Olympic Committee, was the setting for a gala that recaps the sporting year that is coming to an end and which rewards the most outstanding athletes. With 2021 being an Olympic year, it was clear that the main protagonists were going to be the medallists at the Tokyo 2020 Games. Their Majesties King Felipe and Queen Letizia of Spain presided over an event in which the Universidad Católica de Murcia was represented by members of its alliance with the COE (Spanish Olympic Committee), all of whom achieved great success at the Games with 23 medallists and 31 Olympic and Paralympic diplomas. 
Most of the UCAM Olympians who stood on the podium in Tokyo attended the event. The King and Queen of Spain, together with Alejandro Blanco, president of the COE, presented the awards to the gold medallists, including UCAM athletes Alberto Fernández and Fátima Gálvez (Olympic shooting) and Sandra Sánchez (karate).  
The awards to the silver medallists were presented by the president of the Spanish Olympic Committee and the Minister of Culture and Sport, Miquel Iceta. UCAM athletes who won a silver medal such as canoeists Teresa Portela, Maialen Chourraut, Saúl Craviotto, Rodrigo Germade, Marcus Cooper and Carlos Arévalo and taekwondist Adriana Cerezo, as well as gymnast Ray Zapata, took the stage. The karateka Damián Quintero was unable to attend, but participated in a video to express his gratitude for the recognition he received 
Mireia Belmonte and Ona Carbonell, Olympic medallists and outstanding athletes of the UCAM - COE alliance, also atended the gala. Pablo Rosique, Director of Sports, and David Cal, winner of five Olympic medals and member of the University's Sports Service, attended on behalf of the Universidad Católica.