The Olympic Games will be held and Spain will shine again in front of the world
Alejandro Blanco, president of the Spanish Olympic Committee, and José Luis Mendoza, president of UCAM Universidad Católica San Antonio de Murcia, gathered this Friday, online, with the majority of the Olympic and Paralympic athletes who participate in the UCAM-COE project and who are training to compete in the Tokyo 2020 Olympics. Among the participants, there were more than 250 international medals, 19 Olympic medals and 10 Paralympic medals.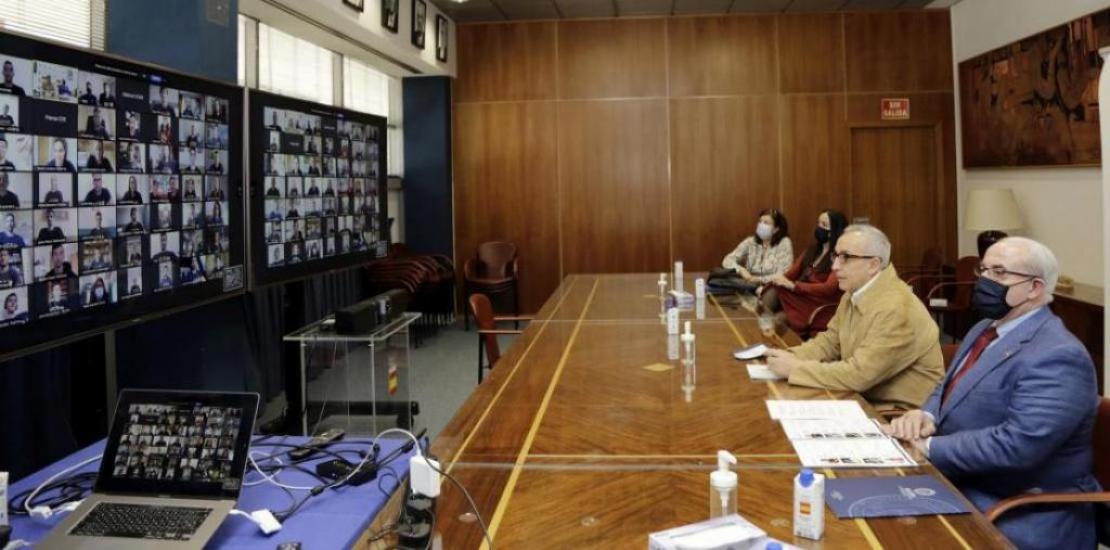 Alejandro Blanco and José Luis Mendoza during the meeting they have held with the UCAM-COE athletes
Mon, 22/02/2021 - 13:12
Alejandro Blanco addressed all of them to send a message of optimism and to share the latest news on the health measures for the Olympic Games of Tokyo. "You have reached so many accomplishments that seeing you all together from a screen is an actual privilege. Spain is a great power in sports, the biggest one in team sports. Thanks to you and to your effort. Work is being done to keep the Olympic Village as a protective bubble to guarantee your safety. For this reason, I want to tell you to keep your hopes high because on July 23rd we will be parading in Tokyo. The Olympic Games will be held and Spain will shine again in front of the world".
For his part, José Luis Mendoza highlighted the role that the athletes play in society. "Thousands of young people look up to you and you, with your effort, are an example for them". He also highlighted the work that UCAM, together with COE, carries out as the "University of Sports". "No other country has projects like this. There are some universities with great athletes, especially in the US, but they do not have this model to facilitate their studies".
The conference was attended by 61 athletes, including Diego García, Enrique Llopis, Fernando Carro, Jorge Ureña, María Pérez, Miguel Ángel López, Orlando Ortega, Raquel González, Úrsula Ruiz, Pablo Abián, Laura Gil, Sadiel Rojas, Gedeón Guardiola, Carlos Llavador, Polona Berezina, Lydia Valentín, Beatriz Pérez, Lola Riera, María López, Ana Pérez, Alberto Gaitero, Fran Garrigós, Nikoloz Sherazadishvili, Andrea Armada, Sandra Sánchez, Damián Quintero, Alba Vázquez, Hugo González, Mireia Belmonte, Carlos Garrote, Cristian Toro, Iñigo Peña, Javier Hernanz, Marcus Cooper, Paco Cubelos, Rodrigo Germade, Saúl Craviotto, Teresa Portela, Maialen Chourraut, Javier Pérez Polo, Jesús Tortosa, Joel González, Marta Calvo, Raúl Martínez, Jesús Cantero, María Xiao, Mario Mola, Elsa Baquerizo, Liliana Fernández, Alberto Barroso and the Paralympic athletes, Gerard Descarrega, Guillermo Rojo, Beatriz Zudaire, Isabel López, Lourdes Ortega, Vicky Alonso, Sonia Ruiz, David Levecq, José Antonio Marí, Marta Expósito and José Manuel Ruiz.
After finishing the meeting, the athletes who attended it thanked Alejandro Blanco and José Luis Mendoza for the call, the support and the constant care, as well as for the calm and confidence they got from this videoconference.
The UCAM-COE alliance
Since 2012, UCAM and the Spanish Olympic Committee joined their effort in a project that allows hundreds of high-level athletes to balance their higher studies with their training and competitions. The alliance became so strong that in the Rio 2016 Olympics, more than fifty athletes linked to UCAM were members of the Spanish team, obtaining fifteen Olympic medals and nine Paralympic medals. The perspectives for Tokyo are even better since they could be sixty, and many of them have very good chances of obtaining a medal. Beyond sports achievements, the key element of this alliance is the future of the athletes, who are preparing themselves to face with more guarantees their access in the work market after the conclusion of their sports career.