Young German executives are trained in communication skills at UCAM
Sent by their respective companies, they have come to Murcia to improve their public speaking, business marketing, corporate communication and social network skills.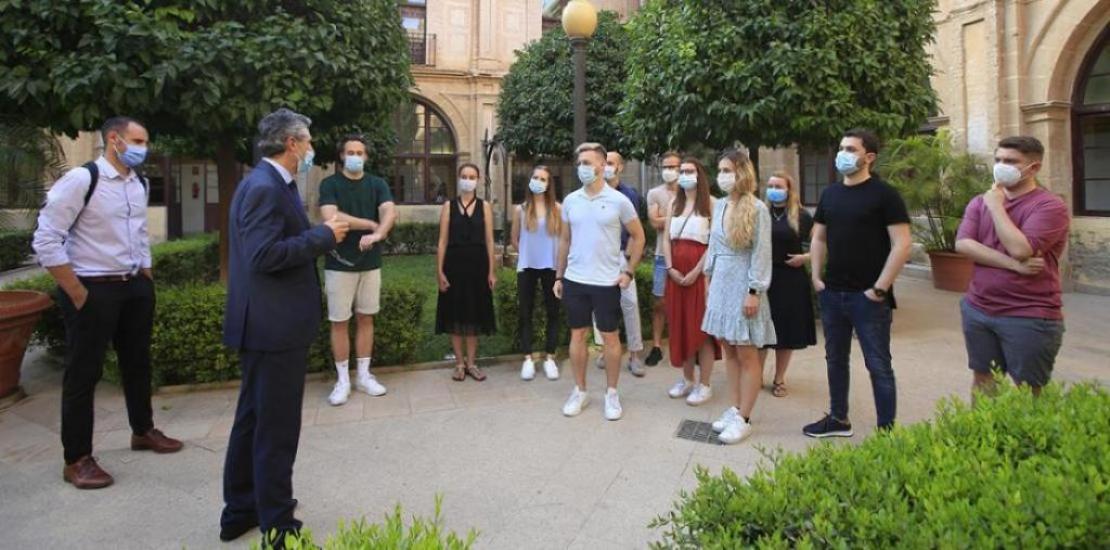 Pablo Blesa, UCAM's Vice-Rector for International Relations and Communication, with german students.
Mon, 13/09/2021 - 13:59
Within the extensive framework of the collaboration agreement between the Catholic University of Murcia and the FOM (Fachhochschule für Oekonomie & Management - University of Applied Sciences for Economics and Management) of Germany, a group of eleven German executives from companies such as BMW, Siemens, E.ON, Deutsche Bank or Adecco have started the 10th edition of the communication skill course named 'Communication Skills' on the Jerónimos Campus.
This institution is the fifth largest university in Germany with 50,000 students and 40 campuses in the country. It specialises in the training of business profiles such as middle management and company executive positions.
Pablo Blesa, UCAM's Vice-Rector for International Relations and Communication, stated "for us this programme is relevant because of the specific profile of the students, the status of their employers and its iteration and refinement for over ten years. The FOM is our most important corporate partner in Germany. With this institution we have internships, exchanges, master's degrees, competency-based training and an international doctorate.
In this course there is a strong emphasis on key aspects of business communication: "We want them to acquire skills in public speaking and learn about effective presentations, corporate communication, social media and business marketing".