UCAM trains 200 of its football technicians in CPR
Coaches and instructors learn first aid and cardiopulmonary resuscitation with an innovative method that uses virtual reality. This initiative is led by Manuel Pardo, head researcher of the New Technologies for Health Group ("Grupo de Nuevas Tecnologías para la Salud") at the Universidad Católica.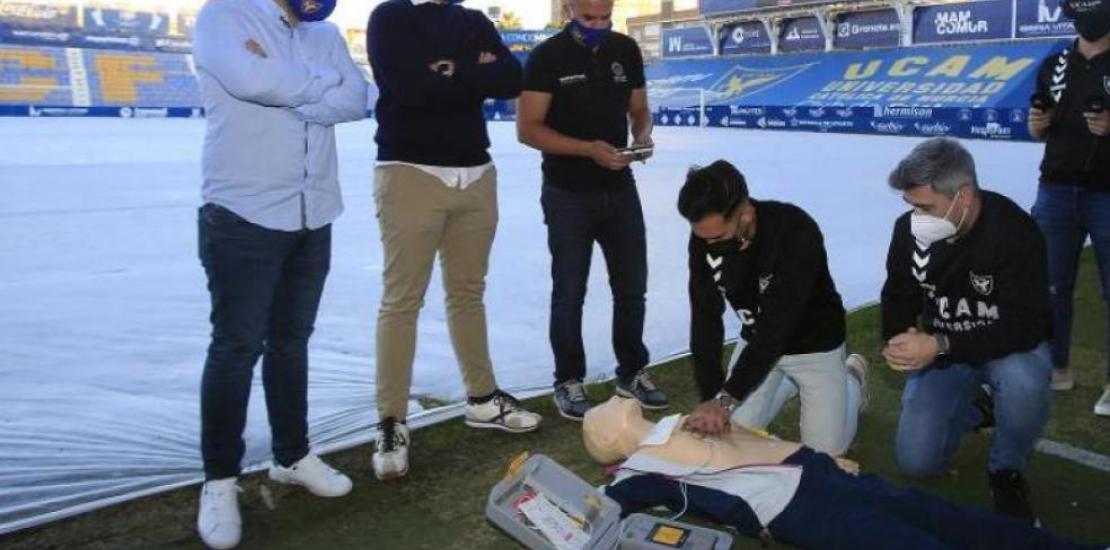 UCAM professors are teaching cardiopulmonary resuscitation (CPR) techniques in BeSoccer La Condomina facilities.
Tue, 23/11/2021 - 10:38
Coaches and members of the technical staff who belong to grassroot clubs of the Universidad Católica de Murcia Football Club, both from in-house as well as associated teams, are being trained in first aid at the BeSoccer La Condomina facilities by the team of Manuel Pardo, head researcher of the New Technologies for Health Group of the Universidad Católica. The UCAM teachers have taught them the necessary steps required in order to know how to correctly act in the event of a health emergency involving a person with a cardiac arrest. 
Using virtual reality, a scenario in which cardiopulmonary resuscitation (CPR) has to be carried out is simulated and the correct application of an automated external defibrillator (AED) is also taught. The UCAM's User Experience and Multimedia department, directed by Pau Guardiola, has collaborated with Manuel Pardo's research group to create this simulation and to ensure that the technology is effectively integrated into the academic content.
This training is the first of a series of courses that will be held for more than two hundred trainers of UCAM Murcia Football grassroots and associated clubs. The aim is for the entire coaching staff of the UCAM youth teams to be prepared in case of an emergency.
Sports and health
Manuel Pardo was very pleased with the interest shown by the coaches and instructors in acquiring these kinds of skills: "We want them to learn these skills in case they have to face a situation of this kind. Hopefully it won't be necessary, but if it is, they will know what to do". He also added that "the main beneficiaries are the children and teenagers in our youth academy, who we can look after and protect by being prepared for any emergency". In this sense, he stressed that this initiative is the result of "collaboration within this great family, UCAM; highly beneficial, through which we also exchange knowledge, and which helps us strengthen ties with one another".