UCAM international students go back to class
The health protection measures and the teaching model implemented by UCAM Universidad Católica San Antonio de Murcia have gained the trust of students from 97 countries on all five continents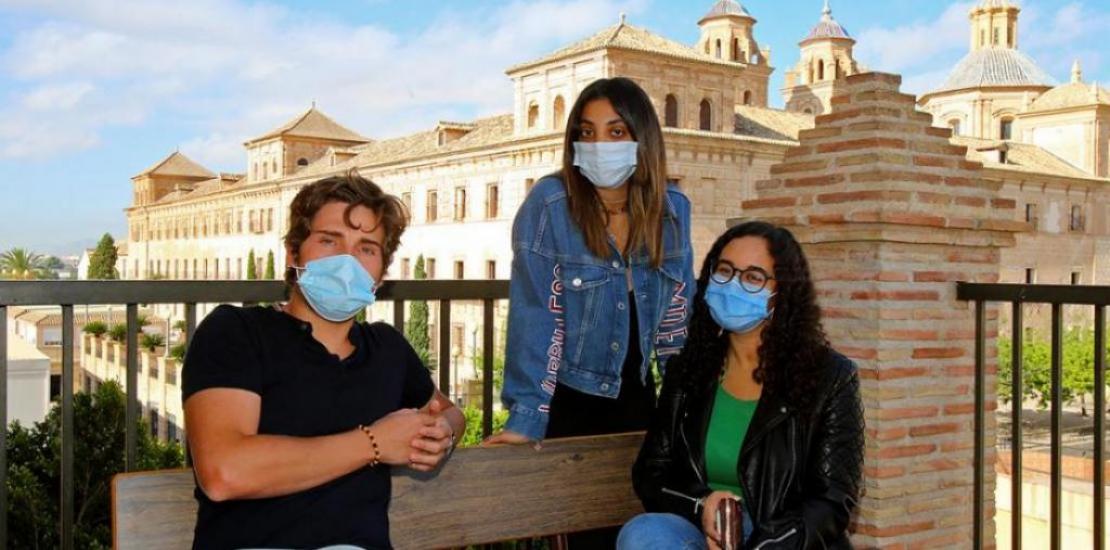 Franz (Germany), Helena (Libano) and Lina (Egypt) BBA students at UCAM
Tue, 13/10/2020 - 16:07
UCAM international students have already begun to join the new academic year at the University's campuses. The model implemented and the health protection measures adopted are generating confidence for the daily life of this large group of students. UCAM has international students from 97 countries on all five continents. A large part of these students undertake Master's and Bachelor's degree programmes in English or Spanish at the Murcia or Cartagena campuses and also online.
 Their presence means an important cultural and exchange richness among the university community, also contributing to making UCAM a pole of attraction for companies and scholars.
Training in English 
UCAM Universidad Católica de Murcia is one of the universities in Spain with the largest number of programmes taught in English and the one that offers the most degrees in this language in the Region of Murcia. Concerning Bachelor's Degrees, it has added two new ones, that of Psychology, at its Murcia Campus, and Dentistry, at the Cartagena Campus. The institution offers, also in English, Business Administration and Management, Physical Activity and Sports Sciences, Pharmacy, Dentistry, Tourism and Modern Languages, as well as ten postgraduate degrees.
This offer has been recognised by the best rankings. Thus, the Knowledge and Development Foundation (Fundación Conocimiento y Desarrollo, CYD) distinguishes it for its programmes of Bachelor's and Master's degrees in English, making it an academic centre that is seen with interest beyond our borders, while The Europe Teaching Ranking 2019, of the prestigious Times Higher Education, ranks it as the tenth university in Europe in terms of teaching quality.
Commitment to face-to-face teaching 
For this academic year, UCAM Universidad Católica de Murcia has committed itself to the presence of the student in the classroom and has implemented a bimodal teaching model that includes online, face-to-face and blended learning, for which it adapts the most advanced physical and virtual resources, as well as an adapted face-to-face model with group rotation in the classroom and follow-up via streaming. All of this is done under a security protocol that includes all the possible health measures to avoid COVID contagions. The Vice-Chancellorship for International Relations has informed students from other countries that the mobility restrictions affecting the Spanish capital have no influence on their transfers to Murcia. Likewise, students have been advised to carry documentation accrediting their studies at the University, and in the event that they do not arrive in time for the start of the teaching programme, they will be provided with a link to follow the classes through the Virtual Campus. 
Housing Service
 Among the many services that UCAM provides to international students there is Housing, which is exclusively dedicated to finding accommodation, by offering information and opinions, legal advice and translation, so that finding a flat to rent is not a problem. It offers personalised attention from Monday to Friday at the Murcia Campus and also online.