UCAM HiTech to open an unparalleled food processing plant in Europe
As a result of the collaboration between UCAM and the INCYDE Foundation and financing from the European Regional Development Fund, it will provide services to companies in the sector
Fri, 13/01/2023 - 18:04
Universidad Católica de Murcia and the INCYDE Foundation have signed an agreement to create a pilot plant for pre-industrial food processing at UCAM HiTech. This project is funded by the European Regional Development Fund and will represent a major step forward in the development and implementation of the research carried out in its facilities, as well as added value to the incubated start-ups. 
 
Samuel Mendoza, General Director of Infrastructures and Digital Development of UCAM, remarks that 'with this project we emphasise our commitment to advanced and applied research. This new investment is an important complement to our research and entrepreneurship infrastructure with the help of the INCYDE Foundation, being in line with our goal of being an international benchmark in research. Our intention is to invest more and more in this essential backbone of the university'.  
From the INCYDE Foundation, its general director, Javier Collado, highlights the importance of this agreement, since 'it is the first plant of its kind in Europe. A milestone for our country thanks to UCAM, the ERDF funds and the INCYDE Foundation that takes place as a natural step in the growth of this project which was launched a year and a half ago'.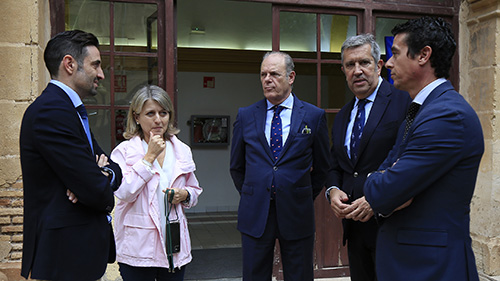 Estrella Núñez, Vice-rector for Research at UCAM, declares that this new facility will be a turning point for UCAM: 'We will cover start-ups and companies which want to validate products and scale up from lab to pilot. Our students will be able to appreciate the strength of cooperation with the business world, which will then generate highly qualified jobs for university graduates. For his part, César Nicolás, director of the ITM (UCAM Murcia Institute of Technology), considers that the pre-industrial food processing plant 'consolidates UCAM HiTech's commitment to offering high value-added services to incubated start- ups. It is a great example of the project's potential and the strength of our relationship with the INCYDE Foundation'.
  
A year and a half working for society 
UCAM HiTech was launched in October 2021 announcing to society its commitment to work on three core areas: health, food and sports. All this through cutting-edge research in state-of-the-art laboratories and in close cooperation with the business world, fostering the setting up of companies thanks to a programme to launch innovative and disruptive start-ups.  
 
Since then, both in the field of research and entrepreneurship, a great deal of activity has been generated with numerous studies which have already been published, and meetings, workshops, courses and conferences which have fostered the relationship between companies. All this has made UCAM HiTech a meeting point where scientists and entrepreneurs have opened avenues for collaboration for the development of new ideas which have become a reality and reached society, giving this incubator its true meaning: transferring science from the laboratory to the productive sector.