The Spanish Olympic Committee (COE) opens the world's first sports centre for refugees, in collaboration with UCAM and with the blessing of the Pope
The 'Alejandro Blanco' pavilion, located at Getafe, was created with the aim of facilitating the social integration of these people through sports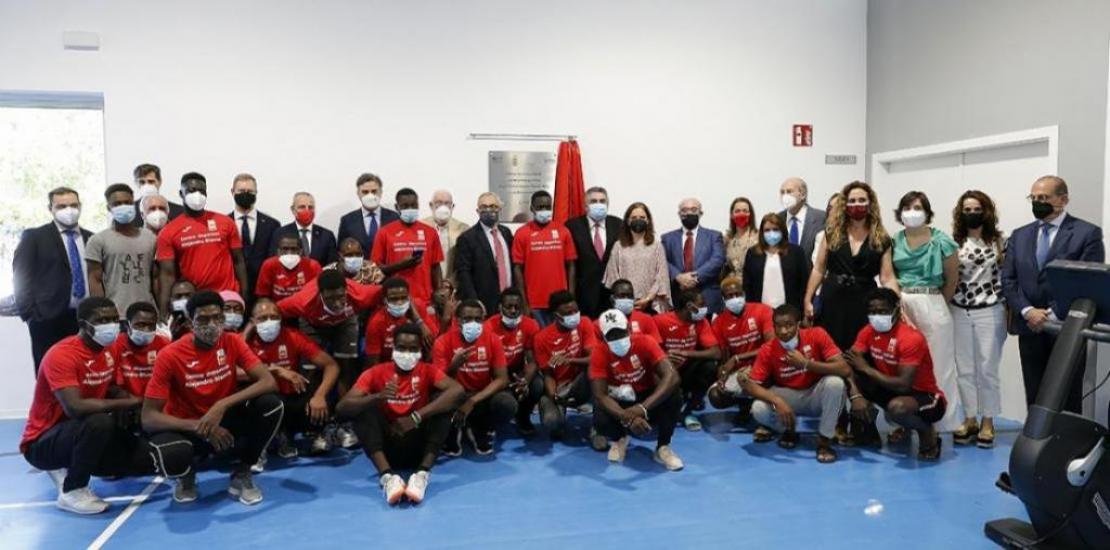 Representatives of the participating institutions at the opening of the new 'Alejandro Blanco' sports centre together with a group of refugees
Fri, 09/07/2021 - 08:37
Friday, 02/07/2021 - 10:10
Fostering the personal development of refugees and facilitating their integration in society through sport practice is the aim behind the opening of the 'Alejandro Blanco' sports centre, the world's first sports complex for refugees. The opening of the pavilion, which took place last Wednesday, was attended by José Manuel Rodríguez Uribes, minister of Culture and Sport; Alejandro Blanco, president of the Spanish Olympic Committee; José Luis Mendoza, president of UCAM Universidad Católica San Antonio de Murcia; Carlos Berzosa, president of the Spanish Refugee Aid Commission; Jesús Javier Perea Cortijo, Secretary of State for Migrations; and Sara Hernández, mayoress of Getafe. 
Alejandro Blanco assured that with the opening of this centre "we have made a dream come true, where refugees will be able to integrate themselves into society through sports". Furthermore, he thanked José Luis Mendoza, "who supports all social and sporting activities and who has achieved something historic, that the Pope supports this initiative with his signature. I do not see a project without UCAM".
A few days ago, Pope Francis showed his joy for the project by initialling Alejandro Blanco's explanatory letter, delivered to him by José Luis Mendoza. During the opening, the president of UCAM highlighted that "this centre is going to carry out a fundamental role for refugees; in it, they will be able to practice sports and socialise", and recalled, "we have several refugees from Africa in our University, who receive scholarships that cover 100% of registration". 
For his part, José Manuel Rodríguez, minister of Culture and Sport, stated that "we view sports as a right for all people, a fundamental tool of inclusion and social and territorial cohesion", adding that "we must make laws that protect the athletes". 
This centre has been built exclusively with private money, from entities such as the International Olympic Committee, the International Judo Federation, UCAM Universidad Católica San Antonio de Murcia, Technogym, the Royal Spanish Handball Federation, the Spanish Basketball Federation and the Royal Spanish Football Federation. 
Olympic team of refugees 
On the occasion of the Olympic Games of Rio 2016, the International Olympic Committee created a group of refugees, with a specific aid programme in which the COE participated, that included various activities aimed at the integration of refugees through sports. In this sense, it must be noted that UCAM participates in the 'YIBins' European project, focused on the promotion of social inclusion of young migrants through sports.