The Royal Academy of Medicine gives an award to one UCAM student and three UCAM researchers
The recipients of the awards are Javier Bernal, for the best academic record of the Bachelor's Degree in Medicine, Begoña Alburquerque, Carmen Lucas and Rebeca González, for their researches on the treatment of colorectal cancer and male baldness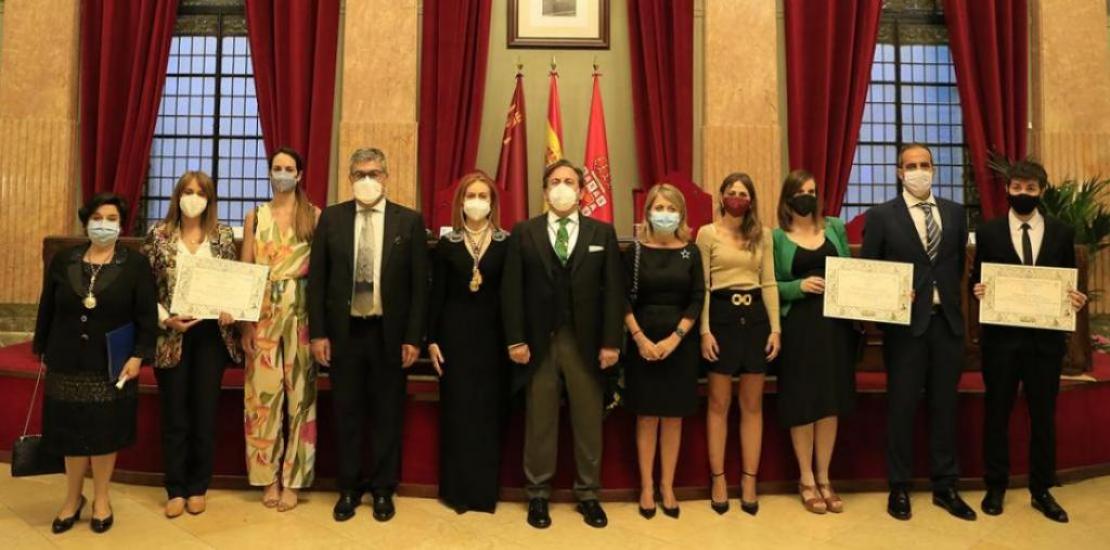 The UCAM award winners together with academic representatives of the institution and the Royal Academy of Medicine and Surgery of the Region of Murcia.
Mon, 24/05/2021 - 09:40
Yesterday night, the Royal Academy of Medicine and Surgery of the Region of Murcia held the solemn Opening Session of the 2021 Year, during which it awarded Javier Bernal with the prize to the best academic record of the Bachelor's Degree in Medicine of UCAM Universidad Católica de Murcia. With an average mark of almost nine, he has obtained 25 distinction marks during his studies and he has been awarded three times with the CTO (Resident Intern Examination Preparatory Centre - Centro preparador del MIR) Scholarship thanks to his excellent academic outcomes. Now, after carrying out the Resident Intern Examination (MIR), he wants to specialise in Pathological Anatomy. 95% of the students of UCAM Universidad Católica de Murcia have passed the MIR this year, with a rate similar to that of past editions, which is allowing the majority of them to select the speciality they want
In the field of research, Carmen Lucas and Rebeca González, holders of PhDs from UCAM, received awards as well for their work. Carried out in collaboration with the company AYC184, the work focuses on the encapsulation of compounds used for androgenic male alopecia in cyclodextrines, in order to minimise the adverse side effects associated to them, as well as to facilitate their topical use and the treatment compliance by the patients.
Likewise, the Royal Academy of Medicine and Surgery awarded Begoña Alburquerque, pre-doctoral scholarship researcher of UCAM, for the research developed on a new use of the Imipramine antidepressant drug as an anti-tumour agent in colorectal cancers.
Jerónimo Lajara, dean of the Faculty of Health Sciences, and Estrella Núñez, vice-chancellor for Research, attended the event, on the part of UCAM. Tomás Vicente Vera, professor of Cardiology of UCAM and member of the Royal Academy of Medicine of the Region gave the doctrinal speech.