Researchers led by Izpisua develop an accurate, quick and portable test to diagnose COVID-19 and track mutant strains
It can analyze 96 samples at the same time, identifying Sars-CoV-2 with its variants, influenza viruses, adenoviruses and other human coronaviruses. In only 15 minutes it starts giving results and in three hours it finishes all the samples.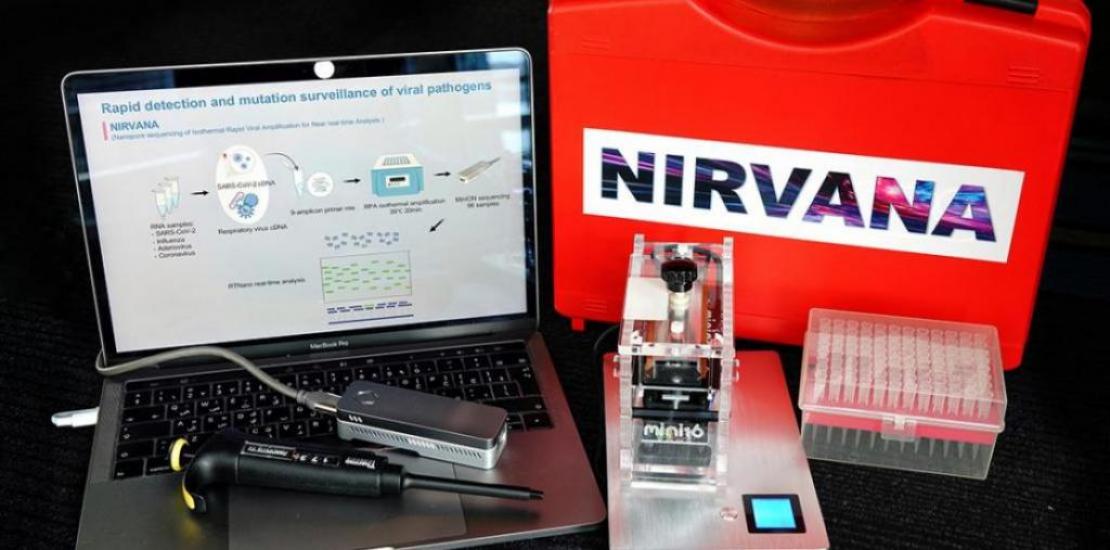 Image of the NIRVANA device that simultaneously detects and sequences the SARS-CoV-2 virus and any of its variants within minutes
Fri, 09/04/2021 - 11:29
The NIRVANA test simultaneously detects and sequences in a few minutes the SARS-CoV-2 virus and any of its variants, the influenza virus and other viruses, with a portable technology, as described in the article published in the scientific journal of Cell press "Med". "It is a method of virus detection and surveillance that does not require an expensive infrastructure, as in other cases," explains Juan Carlos Izpisua, author of the work, Extraordinary Professor of Developmental Biology at UCAM and professor at the Salk Gene Expression Laboratory (USA), but "we achieve, with a rapid and portable test, the same as other slower and more expensive methods". This project is funded by the UCAM and the Seneca Foundation, Science and Technology Agency of the Region of Murcia (00009/COVI/20). 
Worldwide, more than 100 million people have been infected by SARS-CoV-2, the virus that causes COVID-19, and in Spain alone more than 75,000 people have died as a result of this pandemic. Testing the population, which can detect the virus quickly, is key to stopping its spread. Moreover, it is essential to monitor new variants of the virus, some of which may respond differently to treatments or vaccines.
At present, the standard test to determine whether a patient is positive for COVID-19 is to perform a PCR to detect the genetic material of the SARS-CoV-2 virus. However, "if the test is negative, we don't get any information about the cause of the symptoms the patient has, unless they perform additional PCR tests for other viruses. And if the sample is positive for SARS-CoV-2, we also don't know which COVID-19 variant the patient is infected with, unless other much more time-consuming and expensive sequencing tests are performed," notes Estrella Núñez, vice-rector of Research at UCAM and co-author of the study.
While the PCR technique uses temperature cycles to separate the DNA strands and copy them repeatedly in order to visualize them, RPA uses proteins, instead of temperature changes, to achieve the same thing. This technology makes it possible to copy longer stretches of DNA and probe multiple genes at the same time. "We quickly realized that we could use this technique not only to detect SARS-CoV-2, but also other viruses at the same time," notes Mo Li, co-leader of the research group.
In this article, the researchers, led by Dr. Izpisua, describe the design of a small, portable device, called NIRVANA, based on the RPA method, which can analyze 96 samples at the same time. This device can simultaneously analyze samples for COVID-19, influenza A (influenza virus), human adenovirus and non-SARS-CoV-2 human coronavirus. In just 15 minutes, the device starts delivering positive and negative results, and within three hours it finalizes results for all 96 samples, including sequences from five SARS-CoV-2 regions that are particularly prone to mutations leading to new variants.
 
NIRVANA has been tested on SARS-CoV-2 positive samples, samples to determine SARS-CoV-2, as well as on wastewater samples that could contain SARS-COV-2 and other viruses. In all cases, the assay was able to correctly identify which viruses were present and, in addition, the sequencing data allowed delineation of the origin of SARS-CoV-2 in positive samples, differentiating strains from China, Europe or Africa, for example.
"The design of this device is very flexible, so it's not just limited to the examples we've tested so far; we can easily adapt it to detect other pathogens, even something new and emerging," Li says.
With NIRVANA's small size and portability, it could be used for rapid virus detection in businesses, schools, universities, airports, ..... It could also be used to monitor wastewater and detect the presence of new viruses.
"The COVID19 pandemic has brought two important lessons to the table for us: first, conduct mass testing quickly, and second, know the virus variants. Our NIRVANA method provides a promising solution to these two challenges not only for the current pandemic but also for possible future ones," says Izpisua Belmonte.