Murcian solidarity to train doctors and equip an emergency clinic in Uganda
UCAM professors Manuel Pardo and Yassel Parra have sent the donated supplies to equip an ambulance and an emergency clinic. They are also providing training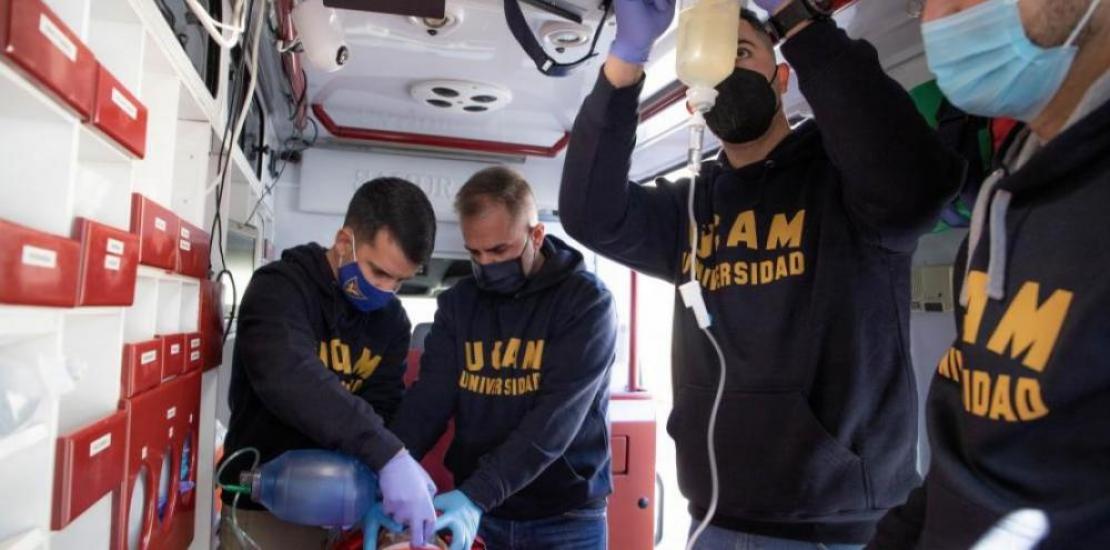 Manuel Pardo (2nd left) and Yasell Parra (3rd left) together with two other UCAM professors preparing the equipment they will use in Uganda.
Mon, 20/12/2021 - 08:30
Health professionals have travelled to the African country with the NGO World Project to carry out humanitarian work for two weeks, with the support of UCAM, an institution that promotes and collaborates with a range of solidarity initiatives throughout the year. They have supplied medical material, such as defibrillators, improving the equipment of a clinic and its ambulance, destined for a multidisciplinary team of Ugandan emergency doctors. The expedition is made up of the nurse Manuel Pardo, vice-dean of Podiatry at the UCAM, and Yassel Parra, doctor and professor at the Universidad Católica.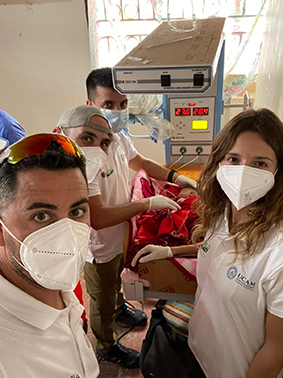 The health workers assisting a childbirth
 
In addition, they are attending to patients who, due to their state of health or age, are unable to go to a health care centre and are being transferred to the aforementioned clinic and hospitals. During their stay, they will also advise on health protocols and provide training at the Chloe Medical Centre, which serves the population of Kikaya and the surrounding area.
Along with the two UCAM teachers, the team is made up of Asunción Quirante, a resident family doctor; Rubén Gabarrón and Gustavo López, health emergency technicians from the Orthem medical transport company, and Manuel Luque, a nurse from the NGO World Project.
 
Manuel Pardo stressed that "life is not only about work and science, which is important, but also about being at the service of others''.
''Knowledge must also be used to help people. This is the philosophy conveyed to us by the president of the Universidad Católica, José Luis Mendoza; to put our knowledge and resources at the service of the people who need them most".