Mireia Belmonte: "Last year was very tough and my body was asking for a break"
The UCAM swimmer, who sat two exams for her Degree in Advertising and Public Relations at the university today, has returned to training with the aim of getting ready for the Spanish University Championships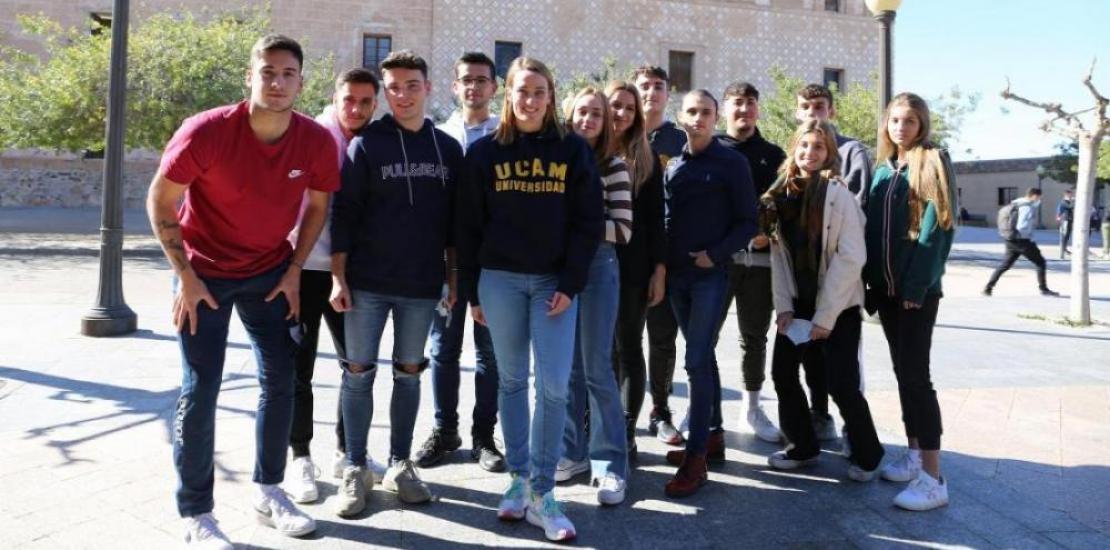 Mireia Belmonte on the Los Jerónimos Campus with students of the Universidad Católica de Murcia
Tue, 08/02/2022 - 15:48
New challenges and dreams. This is how Mireia Belmonte (Badalona, 1990) faces another season full of academic and sporting challenges. On the university front, the Olympic champion continues to make progress in her degree in Advertising and Public Relations, while on the sporting side she is already preparing for a year in which August will once again be the most important month, when the European Championships will be held in Rome. 
Just like any other student at the Universidad Católica de Murcia, Mireia had an important day today in the pursuit of her degree: "I've come to sit two exams, one in Advertising Language and another one in Audiovisual Narrative. It's always complicated to combine studies and training, but if you make a little effort, in the end things work out".
On the sporting front, the swimmer's priority is to regain her touch and put her injuries behind her: "My shoulder hurts a bit. It has been many years of swimming, many kilometres, but I think that, with good preparation and good injury prevention, everything can go better. This rest period has helped me to disconnect both mentally and physically, which is what I needed the most. Last year was quite tough in terms of injuries and my body was asking me to take a break and rest".
As the 2020 Tokyo Games were held in 2021, the timeframe has been shortened during this olympiad, which will only last three years. Mireia Belmonte admits that she has her sights set on competing in 2024: "The long-term goal is the Olympic Games in Paris, but right now I don't have any defined objectives, as I only started swimming a few days ago and I'm taking it one day at a time, based on the sensations I feel and listening to my body. We have the Spanish University Championships from 29 to 30 April. It's the nearest upcoming competition, but right now I'm focusing on training". In summer the most important event will be in Rome: "The European Championships is a goal I have set, but everything will depend on whether I swim well at the Spanish Open and then the Mare Nostrum in June; August is far away and I'm not yet thinking about it".