Mireia Belmonte: "I see myself faster every time"
The swimmer from Catalonia came by the Campus to give an exam from her degree in Publicity and Public Relations at UCAM before initiating a 'stage' of training at high altitude at Sierra Nevada for 21 days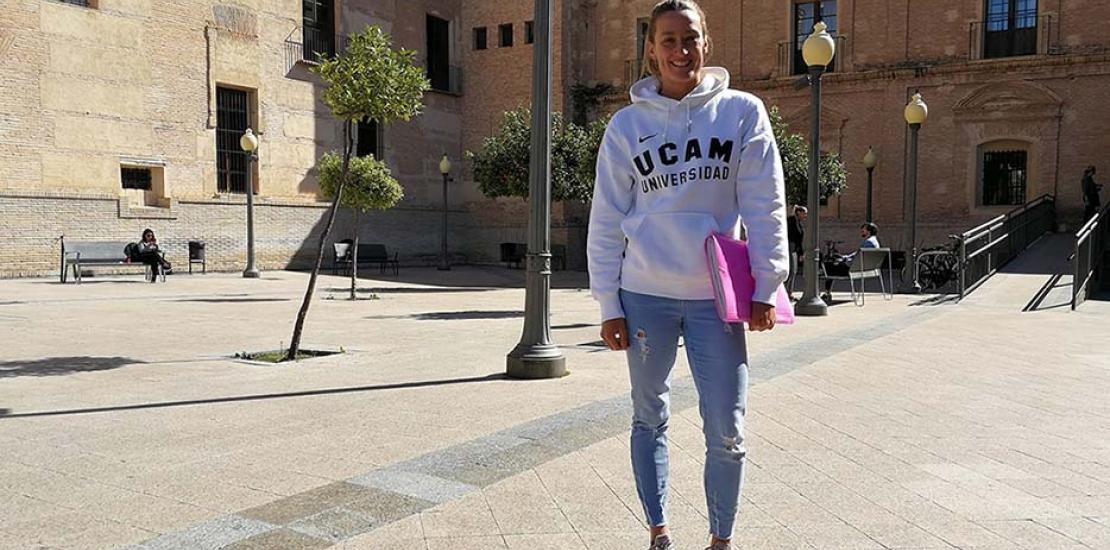 Mireia Belmonte in the Campus of Los Jerónimos.
Tue, 05/03/2019 - 11:21
2019 is an important year for Mireia Belmonte, who is focusing on the big date of World Championships in South Korea this coming summer. Last year she had problems that held her from performing at her best, but this year those problems are long gone, and little by little the big tryouts are getting closer. Therefore, she is currently refining her condition, proven by her victorious weekend in Spanish Championships last month in the tryout for open-water 5.000 meter: "I have been training barely for two months and in every competition I do, I am improving. I'm doing better times, and every time I see myself faster. The evolution has been very positive".
The initial plan for this season consists in maintaining her demanding program (200 butterfly, 200 and 400 style and 400, 800 and 1.500 freestyle): "I am training for my six proofs, as always. In the Spanish Open Championships that are taking place soon, the minimum has to be done, and this year it's complicated as 1.500 and 800 freestyle are in the morning. It's the first time that this happens, and I think it's good training when you think about Tokyo, because there also the finals will be held during the morning".
Thinking on Tokyo without neglecting the studies
Before initiating a preparatory stay of 21 days at Sierra Nevada, Mireia Belmonte had a mid-term exam in Sociology, a part of her Bachelor's Degree in Publicity and Public Relations. The Olympic champion keeps working hard, combining studies with the athlete life: "We're getting the degree little by little with a lot of enthusiasm, gaining knowledge which is the most important part, and with the time I have, combining trainings and studies".