Málaga CF and UCAM, together in the eLaLiga Santander
The Málaga Football Club will participate, with the collaboration of UCAM Esports, in the new 2020/21 season of the eLaLiga Santander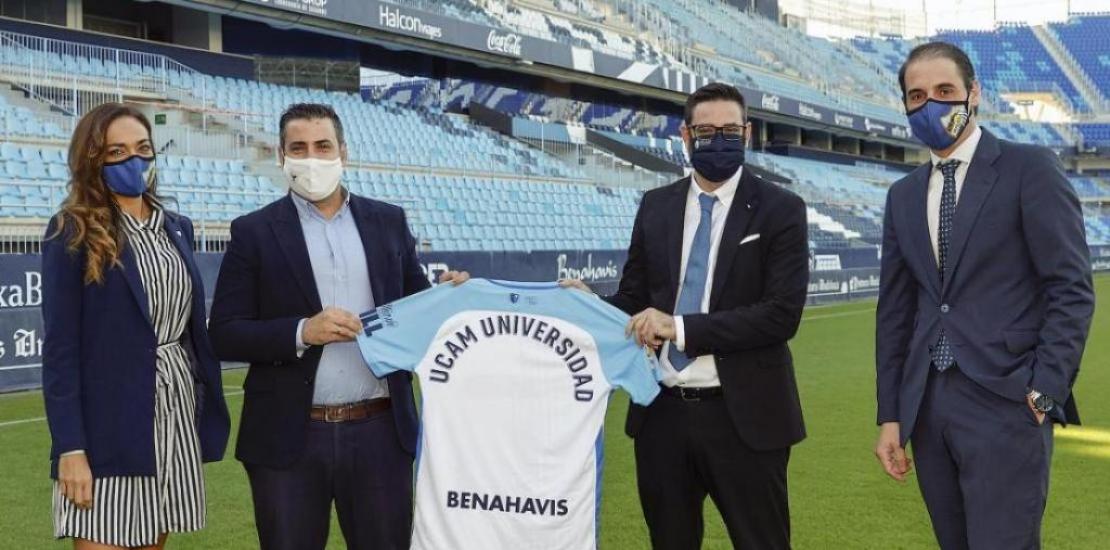 The agreement between UCAM and Malaga CF was sealed at La Rosaleda, the Andalusian club's stadium
Wed, 21/10/2020 - 17:08
The white and blue entity has signed an agreement with UCAM Esports Club to participate in the fourth campaign of the official esports competition of LaLiga, with FIFA 21 being the banner and the protagonist for one more year. 
This collaboration agreement is a big step forward for UCAM, that strengthens its commitment with electronic sports. The three folded aim of UCAM, for several years now, with regard to Esports, includes teaching, research and competition. The signing ceremony was attended by José Luis Mendoza and Samuel Mendoza, director of Institutional Relations and director of Infrastructures and Digital Development, respectively, accompanied by Carlos Arias and Ana Vera, who are in charge of the Business and General Services Area and of the Institutional Relations Area of Málaga CF, respectively.
UCAM Esports will make available for Málaga CF its trainer and football players, among whom stands out Pablo 'Brutaker' Naveira, professional FIFA player.
2020/21 Season
The 20/21 season of eLaLiga Santander will have a new format, with eight months of competition, 20 games per day and more than 300,000€ worth of prizes in a tournament that will start next 12 January 2021.
The first regular phase will end on 10 March; between 3 and 4 April, the eLiga Santander Cup will take place; on 21 April the second phase of the regular league will end; and the big final of the league will take place between 8 and 9 May.
LaLiga and Electronic Arts organise an official competition of EA SPORTS FIFA 21 with the teams of LaLiga Santander and LaLiga SmartBank, whose popularity is increasing Spain year after year.
You can follow the competition, that will be broadcasted also by LaLigaSportsTV and by channel 58 of Movistar+, in the official channels of LaLiga, via Twitter, Instagram, YouTube and Twich.