Fátima Gálvez and Alberto Fernández, Olympic gold medallists
Spain's mixed Olympic shooting duo win the first gold medal for the Spanish team at Tokyo 2020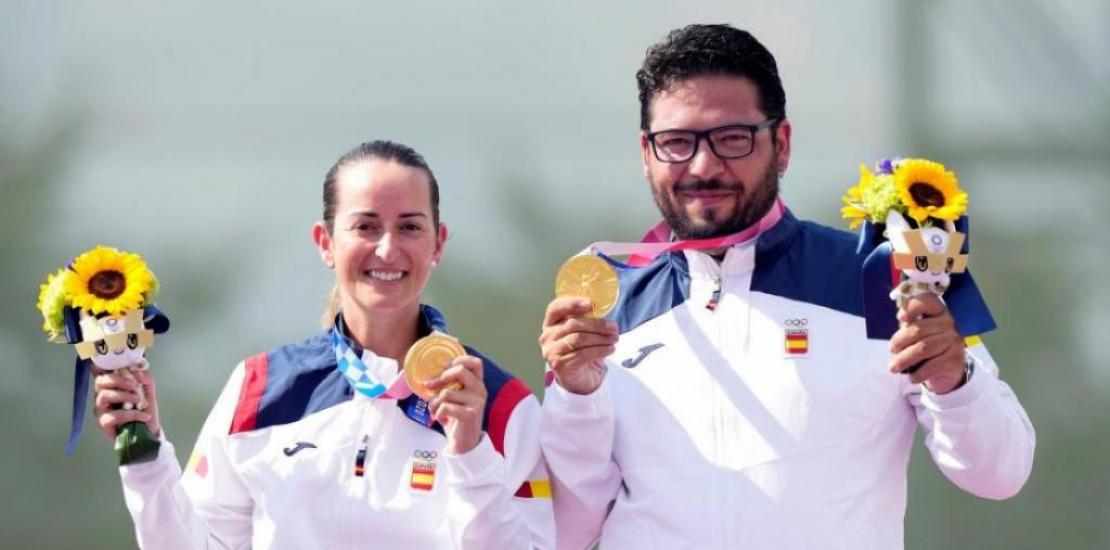 Fátima Gálvez and Alberto Fernández, Olympic gold medallists at the mixed trap team event
Thu, 05/08/2021 - 08:04
The mixed trap team shooting event was held at the Olympic Games in which Spain had not won a medal in shooting since Athens 2004. However, Fátima Gálvez and Alberto Fernández not only managed to start the discipline off with a gold medal, they have also managed to make the Spanish team reach the top step of the Olympic podium for the first time at Tokyo 2020.
The Spanish pair arrived as one of the favourites and confirmed their form with an almost perfect qualifying round in which they hit 148 of the 150 targets they shot. This performance not only ensured a spot in the final, it also meant winning the silver medal.
In the final they faced Gian Marco Berti and Alessandra Perilli from San Marino. The duel kept the nerves of the whole Spanish nation on edge, as the Spanish duo started the final a little doubtful, with four errors in the first 10 targets. Nertheless, they were able to recover and reached the 20-target mark with an equal scoreboard. A single error by Fatima in the third block, as opposed to two errors by Gian Marco Berti, allowed the Spanish pair to take the lead on the scoreboard. An advantage that was maintained until the end thanks to two impeccable performances in the fourth block and an error, once again, by the male representative of San Marino. As for the last five targets, with only one point difference, the shots of both teams were identical, eight hit targets out of ten. Like this, Alberto and Fatima were proclaimed Olympic gold medallists with a total of 41 hit targets, to San Marino's 40.
This Olympic gold medal is the spectacular ending to an impeccable track record. Both arrived in Tokyo after having been European champions together in 2019 and having won the continental bronze medal in June of that year. Fátima Gálvez had already won two Olympic diplomas, one in London 2012 and the other in Rio 2016. She is world champion, twice European champion and twice gold medallist at the European Games, having achieved a total of thirteen medals from World and European Championships. Alberto Fernández, this being his fourth Olympic appearance, is three times world champion, twice European champion and has a total ten medals from World and European championships.