Another success of UCAM's medicine students in the Resident Medical Intern exam (MIR)
95% of the students of UCAM Universidad Católica passed the exam, with a rate similar to that of past editions, which is allowing the majority of them to select the speciality they want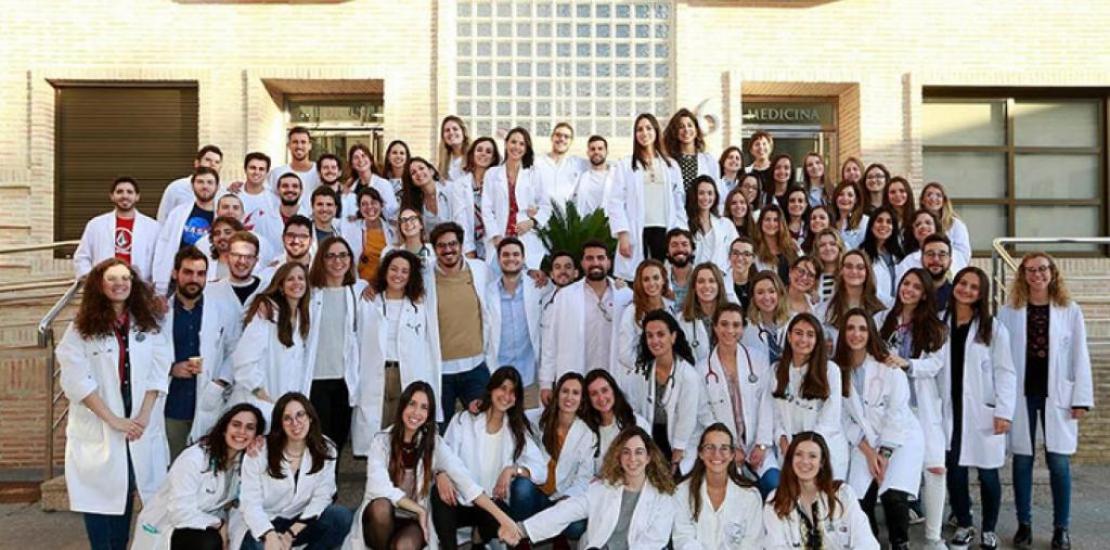 UCAM medical graduates in front of the UCAM building (stock image, February 2020).
Fri, 16/04/2021 - 13:19
Once again, the students of the Bachelor's Degree in Medicine of UCAM have obtained excellent results in the Resident Medical Intern exam MIR, as it happened in past years, which allows the majority of them to select their own speciality.
The graduates of the first and second promotion of UCAM Universidad Católica de Murcia, who passed the MIR in previous editions, are carrying out their specialities at referral hospitals such as Hospital Gregorio Marañón, Hospital Clínico, Hospital La Paz, and Hospital Ramón y Cajal in Madrid; and at Hospital General Universitario Santa Lucía, Hospital Universitario Virgen de la Arrixaca, Hospital General Universitario Morales Meseguer, and Hospital General Universitario Reina Sofía, in the Region of Murcia, as well as in other areas of Spain. The graduates mainly chose the specialities in Anaesthesia, Cardiology, Dermatology, Internal Medicine and Traumatology, among others. 
Jerónimo Lajara, dean of the Faculty of Health Sciences of UCAM, highlighted that "we are happy to have achieved these excellent results as in previous years, and that the majority of our students can access the speciality they want".
Maximum specialisation in Health Sciences
Once again, UCAM Universidad Católica de Murcia has been recognised for its commitment to Health Sciences since its foundation. A new report of Fundación Conocimiento y Desarrollo (CYD) on the condition of Spanish universities from a regional perspective ranks UCAM as the most specialised educative institution of the Region of Murcia in Health Sciences, apart from including it in the top ten universities in Spain. UCAM offers eleven Bachelor's Degrees in the field of health, after launching, during the last academic year, the degree in Biotechnology, which adds to the ones in Pharmacy, Physical Therapy, Medicine, Dentistry, Nutrition, Food Science and Technology, Podiatry, Nursing, Occupational Therapy and Psychology, and to highly specialised post-graduate studies.