CONFERENCE ON CHARITY AND VOLUNTARY WORK
The 20th conference on 'Voluntary work, Fraternity and Social Friendship' of UCAM begins
250 social entities participate in the online exhibition.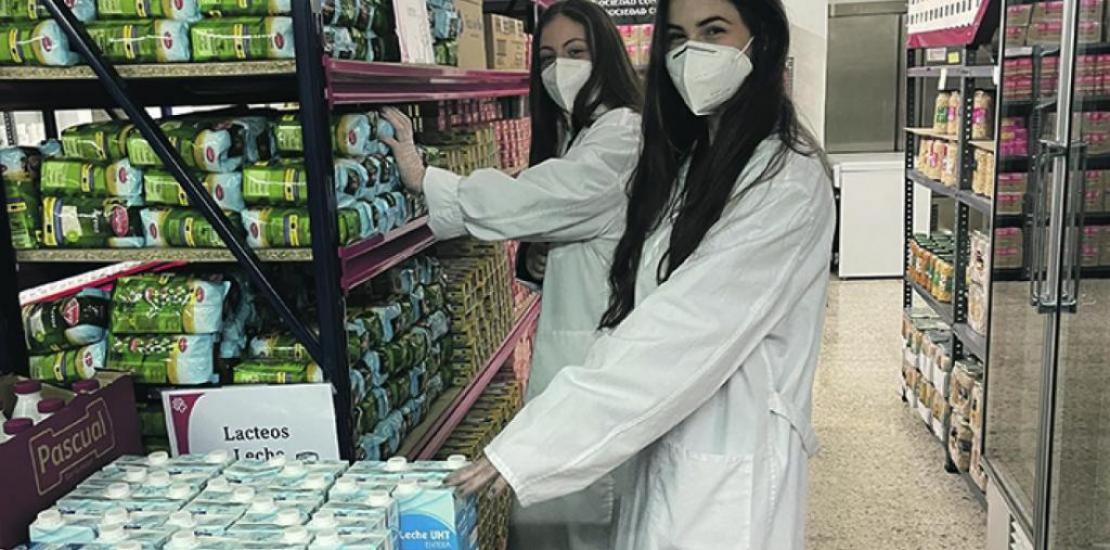 Two BBA students collaborating with Cáritas Diocesana in the San Antón Commissary.
Wed, 03/03/2021 - 15:55
On the occasion of Pope Francis Encyclical Letter 'Fratelli Tutti', UCAM dedicates, this year, its 20th Conference on Charity and Voluntary Work to 'Voluntary Work, Fraternity and Social Friendship'. The event, which is organised in collaboration with the Dicastery for Promoting Integral Human Development, will be held online, from tomorrow, Wednesday, to Friday, and it will include an online Murcia and Cartagena voluntary work exhibition, in which 250 associations will participate. 
Schedule of Activities
The opening ceremony will be held tomorrow, Wednesday, at 4:00 pm, and then the conference titled "Importance of the Encyclical Letter Fratelli Tutti" will be held. Ecumenism will be the protagonist, with the participation of outstanding representatives of the Catholic Church, Orthodox patriarchs, Evangelical and reformed churches. Likewise, members of the major religions, of civil and religious institutions, as well as of Cáritas Española, and diplomats will participate. Some parallel activities that stand out are the inter-university photography contest titled 'Caminos de Encuentro', and the 3rd Exhibit of International Folklore titled 'El encuentro hecho cultura'.    
With those who are most in need   
One of the identifying traits of UCAM is its attention towards those who are most in need, which grew during these time of pandemic. The institution collaborates through economic contributions, research and volunteering projects with associations such as Cáritas Diocesana, Jesús Abandonado, the Segura Food Bank, elderly homes, care centres for persons with disabilities or sick children, reception centres, religious congregations and reintegration projects, among other things.