UCAM Spanish Sports University eWEEK2021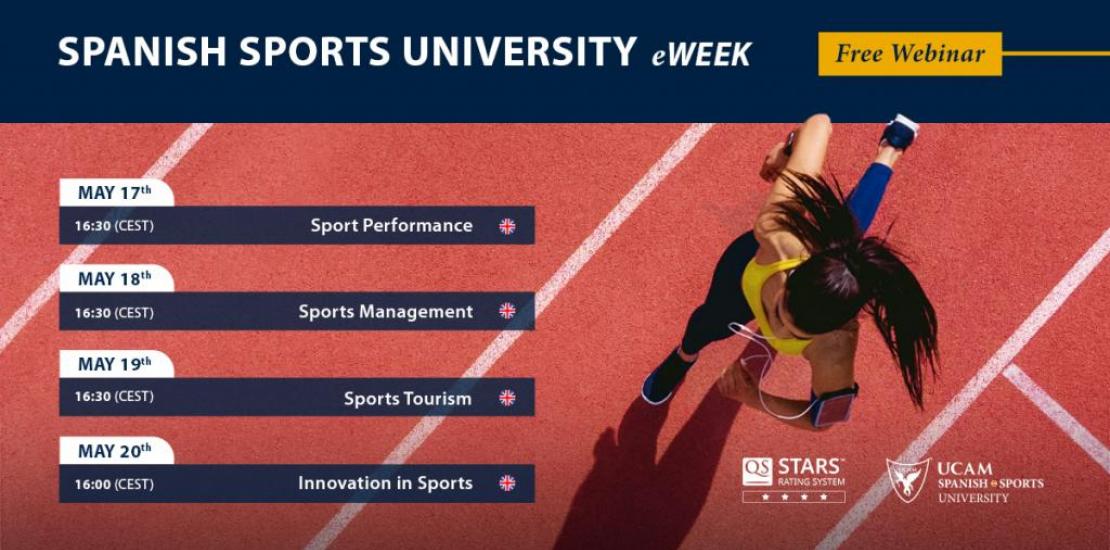 UCAM Spanish Sports University eWEEK2021
Tue, 11/05/2021 - 16:34
Once again this year, UCAM Spanish Sports University is organizing a special program of webinars that will address different disciplines related to the sports industry and sports training science. This is a repeat of an online event that last year brought together more than 3,500 participants from all over the world.
From May 17th to 20th, different professionals from the sector will participate in these activities to discuss different topics of each of the disciplines. All of them in English and in the afternoon time between 16:00pm and 16:30pm (CEST)
The program begins on Monday, May 17th, with a webinar on "Strength and Conditioning" in which Per Aagaard (Professor of Biomechanics in the University of Southern Denmark) will discuss gains in strength, power, RFD, neuromuscular function, muscle size, and athletic performance with resistance training.
On Tuesday, May 18th it will be the turn of Giorgio Gagliardi (Women Sports Secretary at Sassuolo Football Club) and Maheta Molango (Former CEO at Real Mallorca & Advisory Board Member at Baker McKenzie), who will participate in a webinar on sports management. A great opportunity to learn first-hand about the present and future situation of international sports management.
Wednesday, May 19th is reserved for the "The impact of a sporting event on the tourism of a region". The management of this type of service in the sports industry is positioning itself as one of the most powerful of this century. We will have the presence of Óscar Yáñez (SportsTech Director at Grant Thornton and Board Member at SportsBizLab) and Alicia Garrido (Executive Director of Sports & Business).
Finally, on Thursday, May 20th, we will hold the last session, but not the least important, since we will have the presence of Óscar Ugaz, Strategy Director at Atomikal Marketing Digital, we will talk with him about innovation in the digital environment of the sports industry, analyzing the post-COVID situation and new consumer trends and the creation of new competitions such as the Super League.
All sessions are free and can be registered through our registration page.