UCAM participates in MEDIAFOODTV, a streaming tool for training in gastronomy
Pablo Gómez San Miguel, teacher of the Bachelor's Degree in Gastronomy, is one of the active references in this platform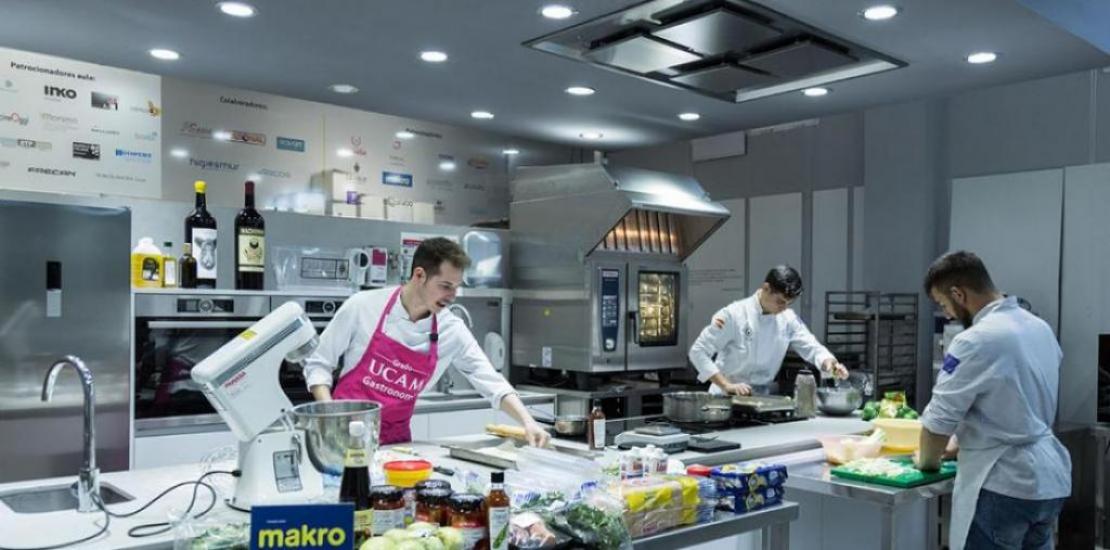 Students of the UCAM Bachelor's Degree in Gastronomy training with the resources offered by the Gastrolab room
Tue, 20/07/2021 - 11:24
UCAM has been collaborating with Tatin de Manzana S.L. and Carolina Escudé, its founding partner, for two years now. The result of this interaction is the Mediafoodtv platform, where, via streaming, it is possible to enjoy training on demand in the latest trends and developments in the pastry, bakery and chocolate sector.
Pablo Gómez San Miguel, teacher and coordinator of the Bachelor's Degree in Gastronomy at UCAM, has actively participated in the platform, taking advantage of the resources offered by the University's Gastrolab room to display some resources related to research in gastronomy. Other renowned figures have also participated, such as Avi Donnay, best pastry chef in the world at the prestigious The Best Chef Awards 2020, Miquel Guarro, pastry director at Hofmann BCN and Eric Ortuño, who runs his own patisserie and school, L'Atelier Barcelona.
The official presentation of Mediafoodtv took place at the Mobile World Congress in Barcelona.