UCAM HiTech includes a hyperbaric chamber to boost new research lines
Using this equipment, research which will enable innovation in different therapies will be conducted. Among application fields we can find sports medicine, radiotherapy oncology, neuroscience, respiratory insufficiency, musculoskeletal pathology, wound healing and pain.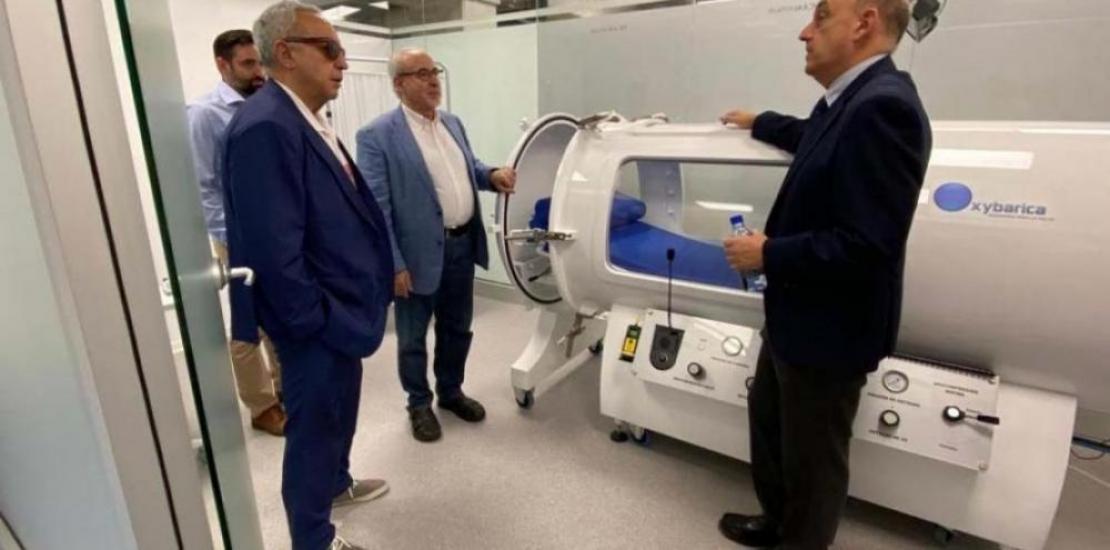 Mon, 01/08/2022 - 11:17
The Chair of Hyperbaric Oxygen Therapy (OHB in Spanish) of the Universidad Católica de Murcia has installed a hyperbaric chamber in its high-tech incubator in health, sport and food, UCAM HiTech, with the aim of promoting new research lines of interest to society as a whole, mainly for patients and athletes.  
With this non-invasive medical discipline, the person is treated with high-flow oxygen, medical oxygen, at levels above atmospheric pressure. This treatment is applied in several situations, such as wound healing, neuropathic pain, delayed fracture healing, recovery from athlete fatigue or radiation oncology. Given its multidisciplinary nature, there are many fields in which research can be conducted, including the recently recognised benefits in the prevention of ageing.  
The inclusion of this equipment is the result of the close collaboration between UCAM and the OHB Foundation which, through the Chair, carry out joint actions in training and research.  
Estrella Núñez, UCAM's Vice-rector of Research, stresses that "for UCAM HiTech, this acquisition is aligned with bringing basic and clinical research closer together, thus favouring transnational research".  
Research and entrepreneurship for our society  
The Universidad Católica de Murcia has launched its high-tech incubator in health, sport and food 'UCAM HiTech', a technological space in which entrepreneurship and research come together, this past year. This space is equipped with state-of-the-art rooms and laboratories for molecular modelling, data analysis, microscopy, pathological anatomy, chromatography, spectrophotometry, microbiology, cell cultures, virology, a hyperbaric chamber, as well as coworking and SME incubation spaces.