UCAM Esports goes through the group stage of the European Masters undefeated
The university students have become leaders of Group C with a 6-0 victory.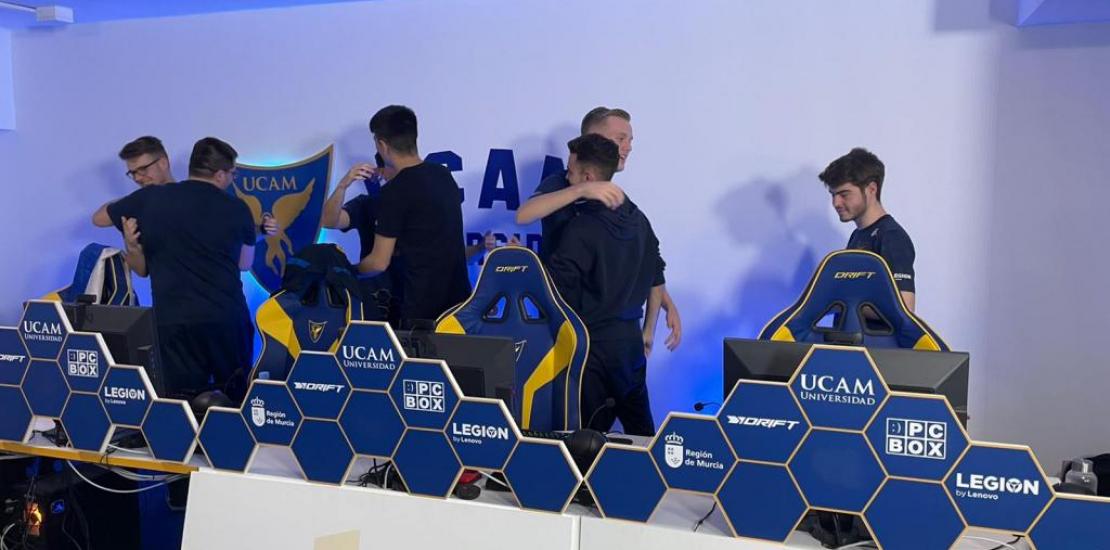 The `UCAM Esports' team celebrating the victory
Mon, 26/04/2021 - 09:26
 'UCAM Esports', the professional eSports team of UCAM Universidad Católica San Antonio de Murcia, continues to achieve milestones, this time in Europe. After winning their first official championship title in the League of Legends Superliga, the first Spanish eSports division, the team has made it through the group stage of the European Masters, the competition where the best LoL teams on the continent meet. 
The blue and gold team got through the group stage with a 6-0 run against 'Illuminar Gaming' (Poland), 'Macko Esports' (Italy) and 'Mousesports' (Germany), placing themselves at the top of the scoreboard.  UCAM has now its focus on the quarter-finals, where teams such as Berlin International Gaming or Misfits Premier have already qualified. The next week we will know, through a toss, the next opponent of the university team. The matches can be followed through this link: twitch.tv/lvpes
The team is captained by the Murcian 'Ad Carry' Rafael 'Rafitta' Ayllón, who is joined by Gonçalo 'Crusher' Brandão (coach), David 'Saba' Sabater (Manager), Joao Miguel 'Baca' Novais Bigas (Mid), Pedro 'Plasma' Simoes Ribeiro (Support), Maik 'Hades' Jonker and Jakub 'Dreedy' Viceník.
Leaders in Europe
UCAM 'Archangels', the subsidiary team, which plays in the university competitions, is still in the group stage of the European championship. Their last victory was against the UK team from the University of Lincoln. The team made up of students from UCAM Universidad Católica San Antonio de Murcia represents Spain in the European Series of Amazon University Esports, the continental inter-university eSports league.