UCAM Cartagena fosters its student's teamwork with a Hall Escape in its University Welcome Event
This cooperation, intelligence and strategy game has been the main innovation in the Welcome Event for the new students at the Los Dolores Campus, where also voluntary work, sport, international projects and cross-cutting training have been promoted.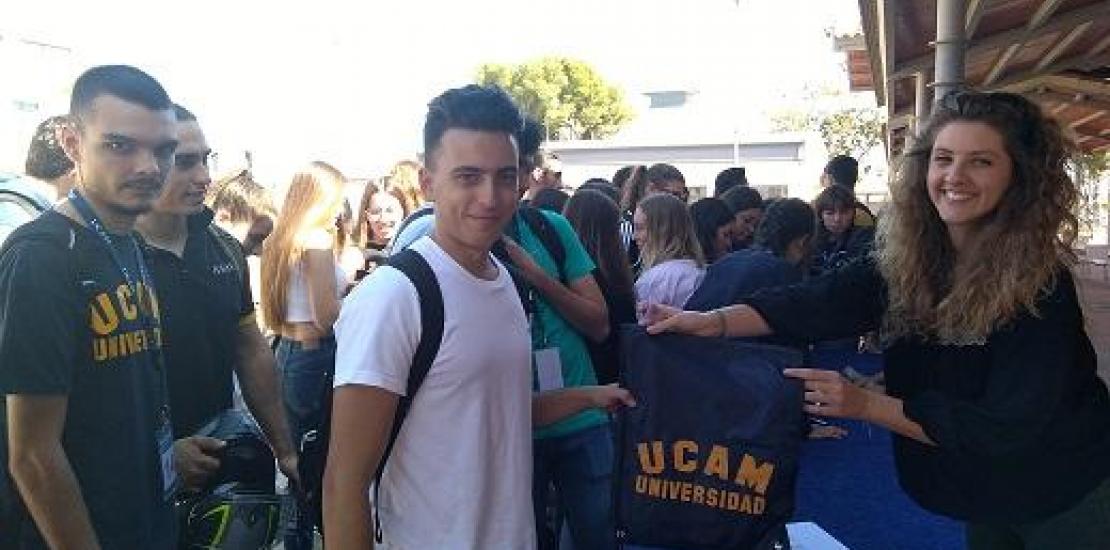 First year students receiving their welcome package
Fri, 18/10/2019 - 10:46
The Catholic University of Saint Anthony celebrated today the University Welcome Event #HolaUCAM for the new students at the Los Dolores Campus, by presenting all the services that the UCAM offers to its student and by holding various activities.
In this sense, it stands out the realisation of a Hall Escape which did not simply trigger the interaction of new university students from different university degrees, but that also fostered in them reflection, when it comes to decision-making, cooperation among schoolmates and intelligence in an enjoyable and entertaining way.
Other activities were the possibility to play table tennis, a sport of which the UCAM has the city's team, three times winner in the last season. Furthermore, the Sports Activities Services was presented by the Olympic medallist David Cal.
Korean, included among the offered languages.
Similarly, the students had the opportunity to know in detail the offer of voluntary services with all the associations with which the UCAM has agreements not only in the area of Cartagena, the big number of international exchange programmes that this campus offers and the sign language course and the Spanish, English, French, German, Italian, Chinese and Korean courses.
The Orientation and Work Placement Service for internships in companies, the cross-cutting training and the entrepreneurship programmes of the Murcia Institute of Technology of the UCAM were presented as well.
Lastly, the students had the chance to taste food from the brands ACHO, Via Nature and Pérez Campos.