UCAM and Barça Innovation Hub start their training collaboration
Both institutions offer highly specialised courses in areas of sport such as psychology, nutrition, physical preparation or communication among others.<br /> <br /> &nbsp;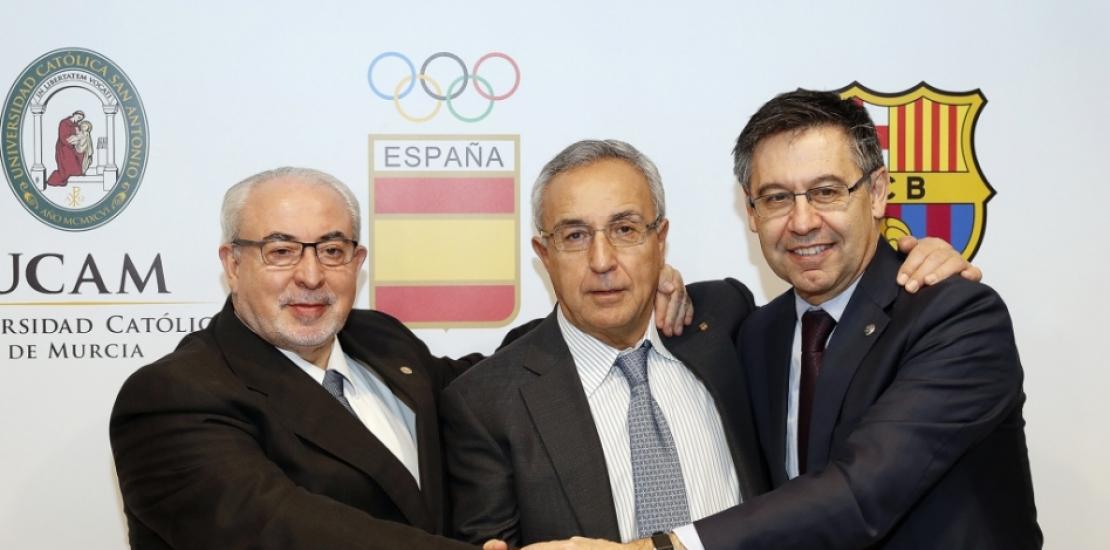 José Luis Mendoza, Alejandro Blanco and Josep Maria Bartomeu, in the signing of the collaboration framework agreement between UCAM, COE and FC Barcelona
Mon, 13/01/2020 - 10:37
UCAM Universidad Católica San Antonio de Murcia will materialise from January 2020 its partnership with FC Barcelona, one of the main sports club in the world. Last February, the presidents of both institutions, José Luis Mendoza (UCAM) and Josep Maria Bartomeu (FCB), together with the president of the Spanish Olympic Committee, Alejandro Blanco, signed in Madrid a collaboration agreement that laid the foundations for the project that starts with the new year and through which UCAM becomes a collaborator of Barça Innovation Hub (BIHUB), a strategic project of the Catalan club to develop and share knowledge through courses that offer a high degree of specialisation.
Psychology, sport training, nutrition, tactical analysis, communication or management are some of the many areas covered by Barça Innovation Hub, which relies on the experience of a high-level faculty and the strength and guarantee of the two institutions that have reached this agreement. This training is aimed at all students and professionals wishing to update and expand their knowledge to specialise and be more competitive in the labour market.
Within the framework of this agreement, as of the 2020/21 academic year, the students of the Master's Degree of UCAM Spanish Sports University will have access to one of the BIHUB courses free of charge, completing their postgraduate training at the university with a degree that will bear the prestigious seal of Barça Innovation Hub and high-level specialisation in the chosen field.  Any professional within the national territory who wishes to take this training, can register on the website.