UCAM, among the ten best universities in Spain to study Medicine
In addition, U-Multirank places this degree of the Catholic University in the Top-25 in Europe for its innovative teaching method, after evaluating more than 2,000 higher education institutions. The ranking, promoted by the European Union, positions Medicine, Nursing, Psychology, Dentistry and Pharmacy of the Catholic University in the Top 12 in Spain.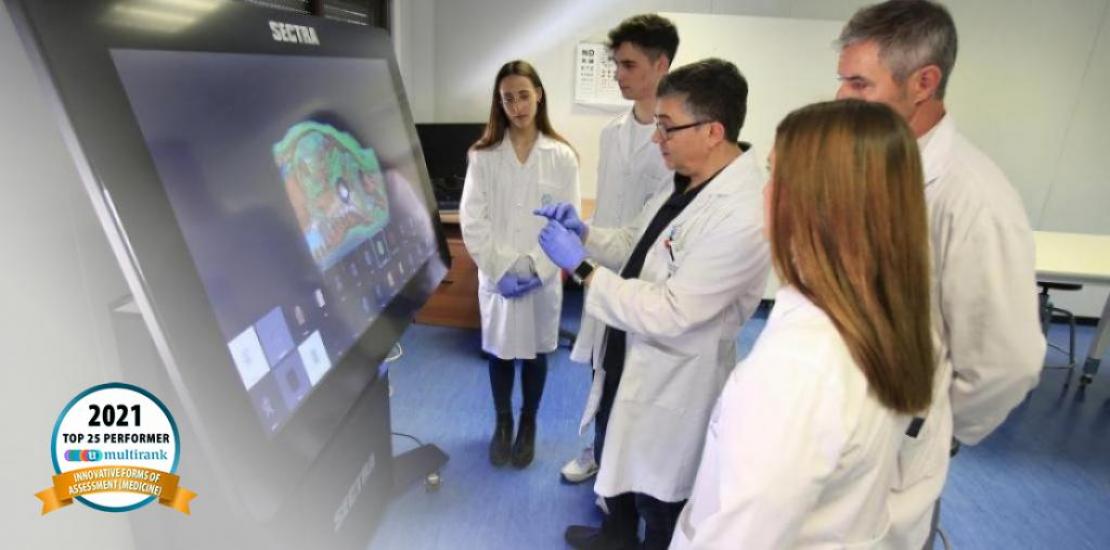 Snapshot of a clinical simulation session on the Murcia Campus.
Wed, 29/09/2021 - 08:58
The latest edition of U-Multirank, a multidimensional ranking that evaluates more than 2,000 higher education institutions in Europe and which is promoted by the European Union, ranks UCAM as one of the best universities to study Medicine, placing it in the top 25 universities in Europe for its innovative evaluation methods, which are backed by the institution's strong commitment to clinical simulation. Furthermore, it places it in ninth position on a national level and in first place in the Region of Murcia. The Catholic University's degrees in Nursing, Psychology and Pharmacy are also regional leaders. 
Moreover, the UCAM's Degree in Medicine is ranked second in Spain and ninth in Europe in terms of hospital beds available for teaching and first in Spain in terms of external research funding. 
According to the information provided by this prestigious European ranking, the results obtained by the Universidad Católica in the field of Health Sciences are excellent, placing the degrees in Nursing and Dentistry in 9th place in Spain, Psychology in 11th place and Pharmacy in 12th place. 
Group 1 in research 
UCAM continues to expand in research, with respect to the last edition of this report, placing it in group 1 in interdisciplinary publications, postdoctoral studies and open access publications. 
The ranking is based on 42 indicators divided into 5 performance dimensions: Teaching and Learning, Research, Knowledge Transfer, International Orientation and Contribution to Regional Engagement.  
Leaders in health sciences 
These results confirm those already published by other prestigious rankings, such as THE World University Ranking, in the Clinical and Health and Life Sciences categories, or the CyD Ranking, which also positively valued the UCAM's health sciences degrees because of their good results in research, knowledge transfer, interdisciplinary publications, fundraising, international publications and employability.