The President of the Region of Murcia welcomes 700 new UCAM international students
These students, who come from about a hundred countries in the five continents, are a representation of more than 2000 students studying in the Catholic University.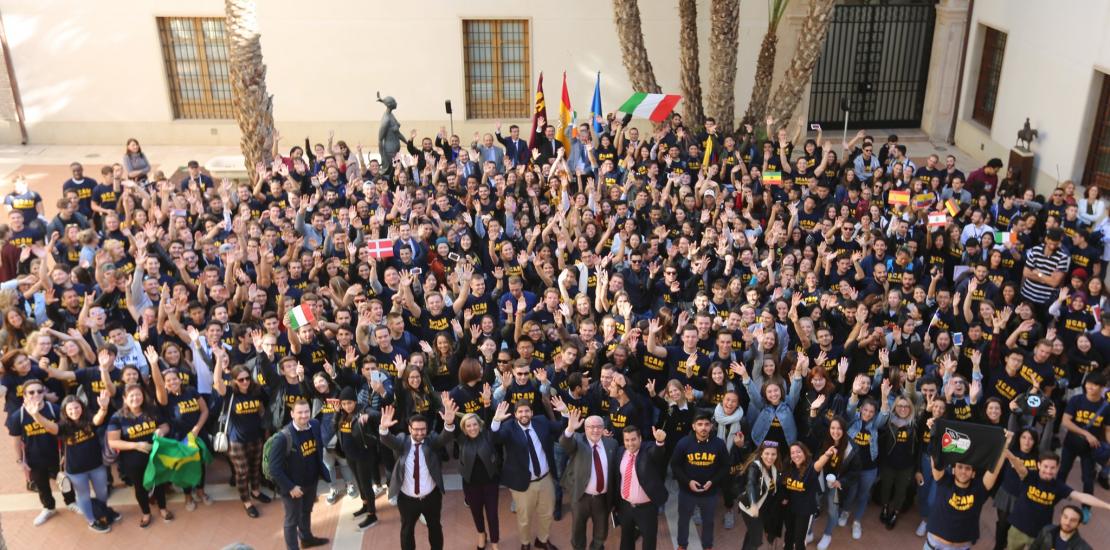 International Students with the President of Region of Murcia
Tue, 21/11/2017 - 10:23
Students from about a hundred countries will follow courses this year in the Catholic University of Murcia. A significant group of about 700 hundred students, who come to UCAM for the first time, have attended the reception that the President of the Autonomous Community of the Region of Murcia, Fernando López Miras, has offered in San Esteban Palace. It is worth mentioning that during the academic course more students will be welcome both in face-to-face and online courses.
These university students that have been accompanied by the President of UCAM, José Luís Mendoza will study in UCAM different degrees, mainly in Business Sciences, Tourism, Sport and Health Sciences, as well as postgraduate studies in many different specialties, both in Spanish and English. A case in point of this is the MBA, where 25 students come from 15 different nationalities. In general, the countries with a higher number of students registered in UCAM are Italy, France, Colombia, Canada, China, Philippines, Japan, Nigeria, and Ghana.  Under this act, the student Hudu Adam from Ghana, who studies MBA, has given a t-shirt of the Catholic University as a present to the President of the Autonomous Community. Adela Martinez Cachá, Executive Officer of Education, Youth and Sports, was present in the ceremony.
Lopez Miras has highlighted the students that, if they are already some time here they must have realized that they are "in the best part of the world". He has also claimed that "in the Region of Murcia we believe in freedom, the freedom of important institutions such as UCAM". He has also added that in this Region there is freedom to choose where to study, due to the educational diversity and freedom of option. He has also invited the students to visit different parts of the Region, from Cartagena, "three times millenary, where Europe was born"; the Baroque Murcia, Lorca, the city that has reappeared after the 2011 earthquake or Caravaca de la Cruz to gain the plenary jubilee year indulgence. He has also invited them to visit the Mar Menor and practice trekking in the interior routes, enjoy gastronomy and climate together with the people's friendliness, all in combination with their training period here.
José Luís Mendoza, President of the Catholic University, has also talked to students and has told them that they are a "present for this Region and also for our University, open to all movements and world realities." He has highlighted that UCAM is present in the five Continents, and it is a "reference model in education quality, excellence in research and technological innovation, internationalization and sport."
Before and after the Official photograph with the Presidents, international students have made the most of the moment and have taken "selfies" and shared them in the social nets with friends and families. Flags from different countries, such as Brazil, Italy, Canada, Denmark, Ukraine, Cameroun, USA, France, China, India or Thailand have been present today in the Region of Murcia Seat of Government.
This UCAM investment in internationalization enriches the coexistence in its campuses of Murcia and Cartagena, and young people either from Spain or abroad benefit from it, together with the University teachers and staff. Besides that, one of its consequences is the increase of later international research projects.
Another direct consequence is that these young people spend between one and four years in Murcia, and their family and friends visit many of them. Therefore, they are going to know the Region.
For this purpose, the Catholic University has prepared programs of cultural support and leisure, since in their stay they not only will create richness but also, when they leave, they will have acquired excellent training and will speak in the benefit of the Region of Murcia.