'Navidad Solidaria 2020', for the benefit of the Food Bank
The entire university community will be able to participate in the campaign, which is aimed at the most disadvantaged people who have increased in number due to the coronavirus crisis, by placing non-perishable food in the containers located in the cloister of Los Jerónimos Monastery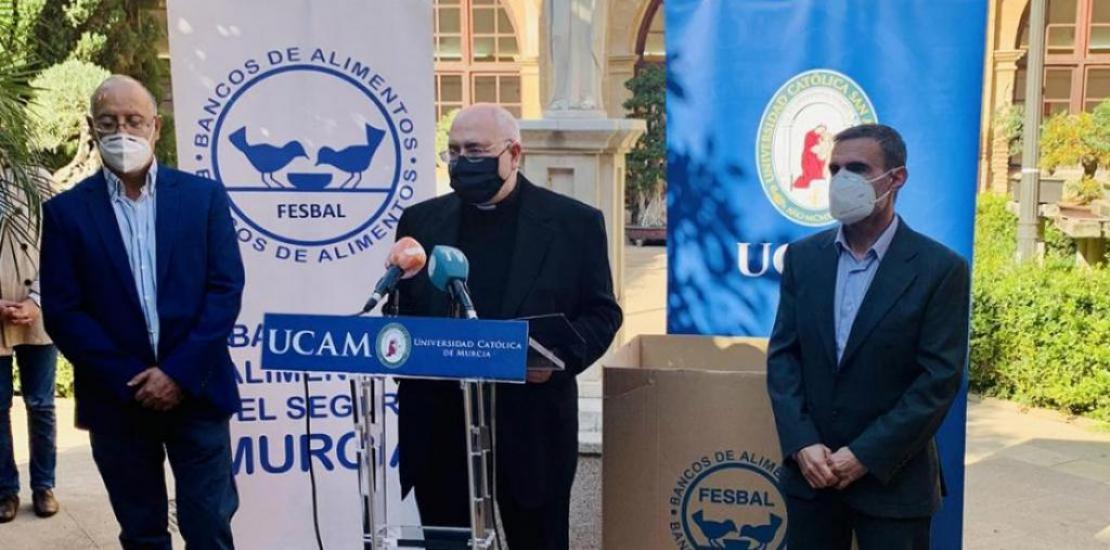 Presentation of the Campaign 'Christmas Solidarity 2020' in favor of the Food Bank
Thu, 12/11/2020 - 15:53
This Wednesday, UCAM Universidad Católica San Antonio de Murcia presented its 'Navidad Solidaria 2020' (Solidarity Christmas) campaign, an initiative which, in collaboration with the Murcia Food Bank, was created with the idea of helping to alleviate the economic and social effects that the current pandemic is causing among the most vulnerable population. The university community has at its disposal, in the cloister of Los Jerónimos Monastery, some containers where non-perishable food can be left and then distributed to the neediest people.
The UCAM vice-chancellor for University Extension, Antonio Alcaraz, has called for solidarity and has highlighted the work carried out by the Murcia Food Bank, an entity with which the Catholic University collaborates in different projects. "It is time for us to row all together and continue working to help families in need", said Alcaraz.
For the director general of the Food Bank, José María Gavilán, "thanks to initiatives such as that of UCAM, we can continue to collect food and give it to the most vulnerable families". According to Gavilán, the number of people currently receiving aid from the Murcia Food Bank has risen from 40,000 to 60,000.
The inauguration of the 'Navidad Solidaria 2020' campaign was also attended by José Ramón Soriano, director of the Agricultural and Fisheries Department of the Government Delegation of the Region of Murcia, who pointed out that "actions such as those carried out by UCAM serve to boost donations so that everyone in need can benefit".