Mo Katir: "My goal in Tokyo is to be a finalist"
The UCAM athlete from Mula has undergone a medical exam at the Research Centre on High Performance Sport of UCAM Universidad Católica de Murcia before leaving for Tokyo, where he will compete in the 5,000 metres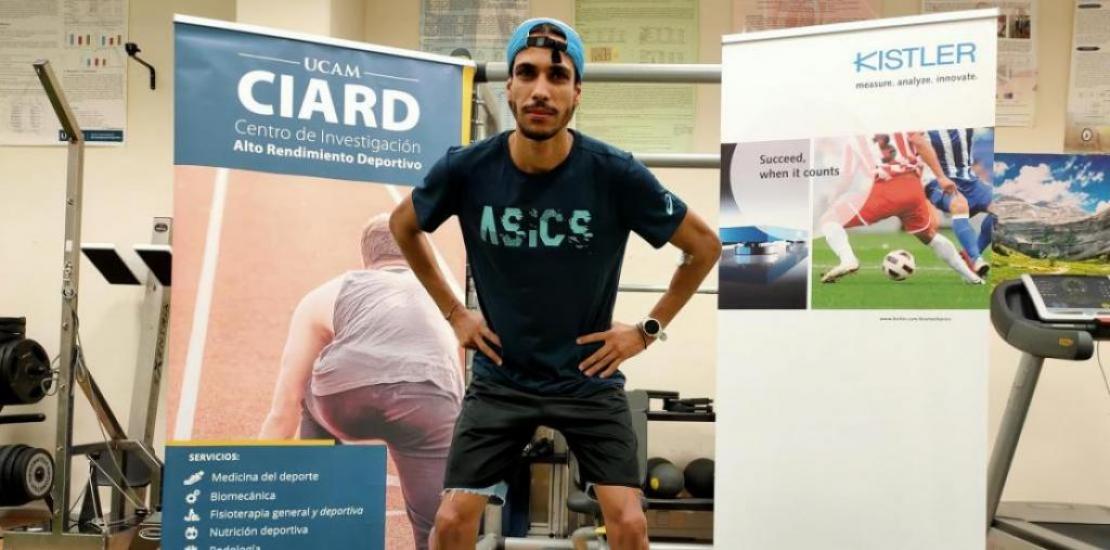 Jumping test at the Research Centre on High Performance Sport of UCAM
Tue, 20/07/2021 - 11:34
Mohamed Katir, who is only 23 years old, is one of the great promises of Spanish athletics for the Olympic Games of Tokyo, which will start this weekend. Its success was confirmed throughout the last weeks, beating the national records of the 1,500, 3,000 and 5,000-metre runs and achieving prestigious international victories that placed him in the spotlight of the potential medal recipients in the 5,000 metres, which will be the only one to be played. 
Before leaving for Japan, the athlete from Mula, accompanied by his trainer Gabi Lorente, visited the facilities of Research Centre on High Performance Sport (CIARD) of UCAM Universidad Católica de Murcia, directed by Doctor Pedro Emilio Alcaraz, to undergo some tests. Katir is thrilled with his first participation in the Olympic Games: "Every athlete's dream is to participate in the Olympic Games and I will fulfil it in Tokyo". My goal is to be a finalist in the 5,000 metres. Once in the final, I would love to fight to reach the podium. I am at full fitness and hopefully I will be lucky and catch a good day".
Mo Katir talks with Antonio Peñalver, the only Murcian Olympic medal of athletics so far, in the presence of his trainer Gabi Lorente
Although he may compete in other events, the Murcian athlete states that "this year we have decided to focus on the 5,000 metres for the Games" and he assures that he manages the expectations surrounding him quite well: "I have learned about this in the indoor track. Being the European leader in the 3,000 meters, I clearly noticed the tension and the stress, but thanks to that I have acquired more experience I now I am more relaxed".
Before carrying out the tests at CIARD, Mo Katir spoke by phone with José Luis Mendoza, president of UCAM, who wanted to cheer him up before the Games: "He told me he is very happy with me, he congratulated me and wished me good luck. I am very happy of being a part of the University and of standing up for UCAM as well".
Katir is not among the favourites in an event that is packed with world record holders and more experienced athletes: "I know all the other competitors in the 5,000 meters because I have already competed with them in the 'Diamond League', which includes the best athletes in the world. I know who they are and their level and I hope that in Tokyo we will be able to compete well against them".