Juanjo Soria, UCAM graduate in Gastronomy, is awarded a Michelin Star
Born in Guadalupe (Murcia), he is the head waiter and sommelier who, together with the chef María José Martínez (Alhama), runs the Lienzo Restaurant in Valencia, which has received this recognition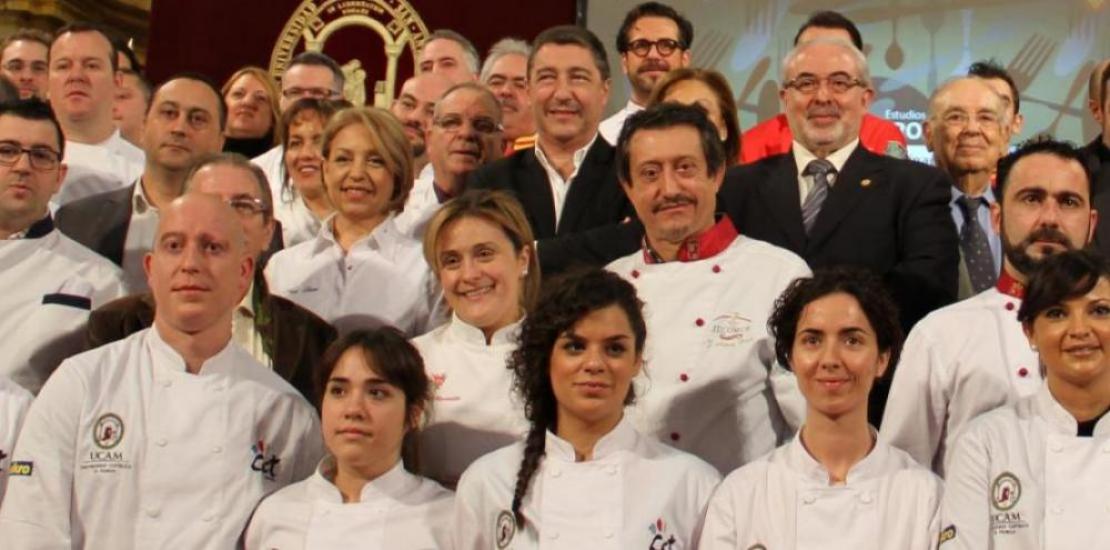 Archive image of Juanjo Soria (1st left, first row) at the opening ceremony of the first promotion of the UCAM Bachelor's Degree in Gastronomy.
Fri, 17/12/2021 - 07:55
The Michelin Guide for Spain and Portugal has added the Lienzo Restaurant in Valencia to this select club. Its head waiter and sommelier Juanjo Soria, originally from Guadalupe (Murcia), a graduate of the first promotion in Gastronomy at UCAM, together with the chef, María José Martínez (Alhama de Murcia), has been running this restaurant for seven years. Located in the heart of the city of Turia, the restaurant has achieved its first star in this prestigious guide, an icon of national gastronomy.
Juanjo has fond memories of his time at the Universidad Católica " I met some excellent teachers, and above all it made me want to return to the world of hospitality, which I had abandoned for a few years".
He mentioned that the beginnings in Valencia were complicated: "we arrived in a big city; two people from Murcia who until then had no experience as entrepreneurs - we had only worked as cooks - but the truth is that everything has gone phenomenally well and right now we are on a cloud; we are very happy to have received this important recognition". 
Lienzo's sommelier also highlights that the Michelin Star "is a recognition of these seven years of effort" and takes the opportunity to value the figure of the dining room in the field of gastronomy, "at Lienzo we are certain that this is 50% kitchen and 50% dining room".