José Luis Mendoza, receives a prize at the New York Awards "for his commitment and social contribution"
During the gala, held today in Manhattan, also Rigoberta Menchú, Ndaba Mandela, Kathleen Kennedy, Bernice King and prominent personalities and institutions of Spanish and Latin American public life, among others, received prices.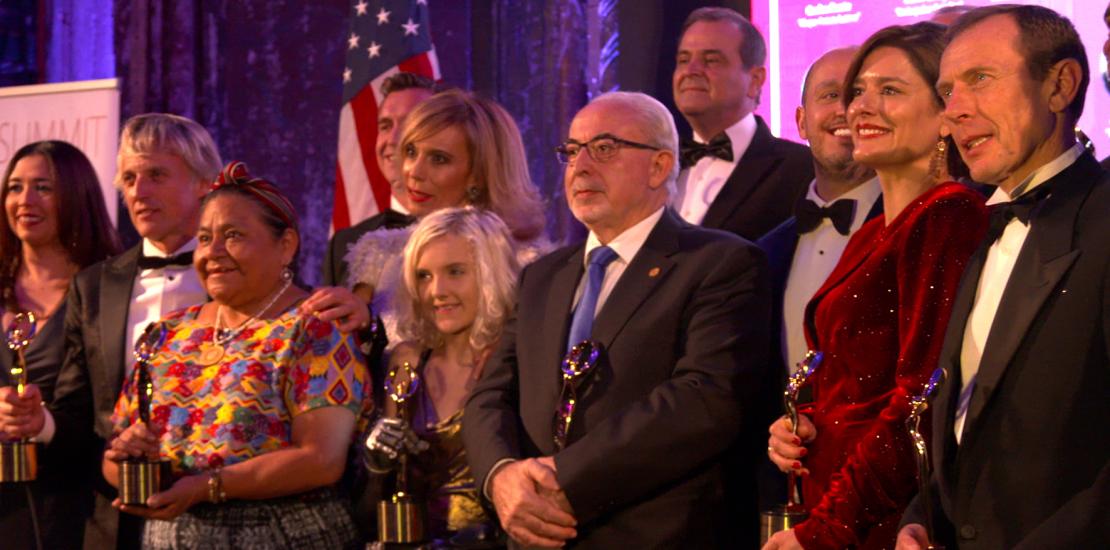 UCAM president, José Luis Mendoza, along with some of the winners
Thu, 21/11/2019 - 23:14
Outstanding personalities from various fields such as sport, music, culture and education convened this morning (Spanish time) at the Fundación Ángel Oresanz space, in Manhattan, to receive the New York Awards, in the context of the New York Summit 2019. It is the world's biggest Spanish-speaking event on leadership and business management, and it has been followed by an audience of 44 million people.
One of the prize-winners was the president of UCAM Universidad Católica San Antonio de Murcia, José Luis Mendoza, who received this award "for his contribution and social commitment through UCAM and in favour of education". He received the prize from Ray Cazorla, president and founder of the Inspiring Committed Leaders Foundation (ICLF), which organised the event.
During this event, other prominent personalities and institutions from different fields received prizes: Rigoberta Menchu, indigenous Guatemalan leader and defender of human rights; Real Madrid C.F., whose prize was collected by Emilio Butragueño, director of Institutional Relations of the club; Ndaba Mandela, grandson of former South African president Nelson Mandela; Bernice King, daughter of Martin Luther King and CEO of his Foundation; lawyer Kathleen Kennedy, daughter of former US president John Fitzgerald Kennedy; humourist Carlos Latre and mountaineer and presenter Jesús Calleja, among others.
The president of UCAM highlighted in his intervention that "we are a profoundly existential university, driven by the strength of God's love, in solidarity with the poorest, with those who are most in need, with those who suffer the most; we are there to help them", and always offering "a high-quality training, because the most important thing is our students". José Luis Mendoza stated as well that in this life "we are just passing through, fulfilling a mission, making the love of God present, doing good deeds, to the best of our ability".
ICLF, a non-profit organisation
The Inspiring Committed Leaders Foundation (ICLF) is a non-governmental, non-profit organisation for the implementation of projects, in the fields of social, political, economic, educative-cultural participation in the US and other countries of Latin America and Europe, with the goal of achieving a real and effective equality of opportunities.
Check here the interview done by Popular TV