The 23rd UCAM Sports Gala pays tribute to José Luis Mendoza
The heads of UCAM and the Spanish Olympic Committee, María Dolores García and Alejandro Blanco, presided over the UCAM Sports Gala in the Temple of Los Jerónimos, which was packed with over 800 athletes, including world champions and Olympic and Paralympic medallists, as well as representatives of the grassroot teams, after a successful season. The next big goal for many of them: the 2024 Summer Olympics.
Fri, 03/11/2023 - 13:06
The Temple of the Monastery of Los Jerónimos, the heart of the Universidad Católica San Antonio de Murcia, had its most touching Sports Gala today, the first which was held without its founder, José Luis Mendoza. For this reason, homage could be felt in each embrace, in each awarded prize, in each smile and in every look. A tribute to the legacy which made UCAM the University of Sports in Europe. The gala began with a moving moment of prayer for his soul and thanksgiving for his life and work by the University chaplain, Luis Emilio Pascual.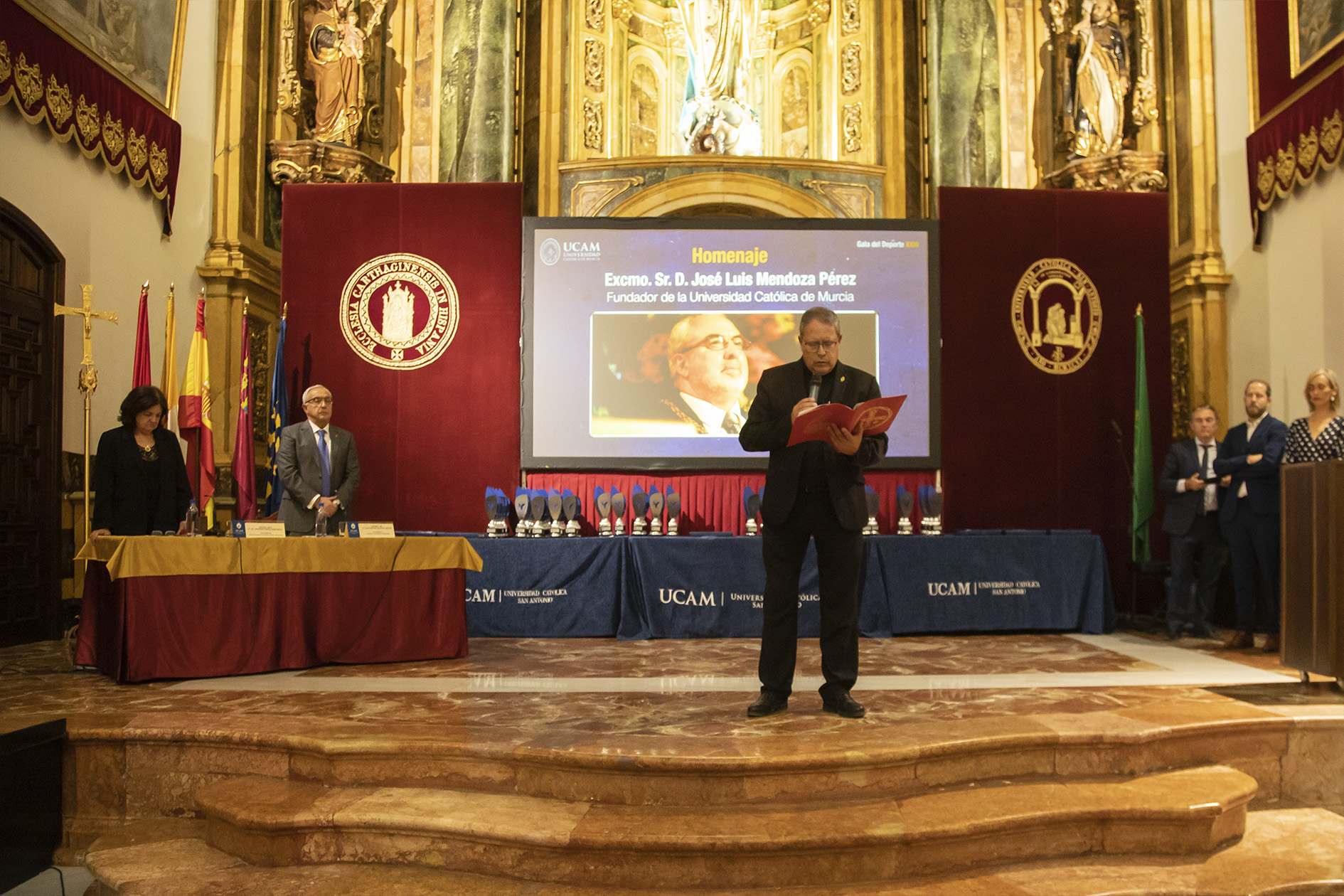 Athletes who are part of the UCAM - COE alliance, such as Saúl Craviotto, Teresa Portela, Mireia Belmonte, María Pérez and Damián Quintero took part in this gala, along with the professional teams (UCAM Murcia CB, UCAM Murcia CF, UCAM Tokiers Esports, UCAM Cartagena Tenis de Mesa – table tennis– and UCAM Piragüismo –canoeing), the university students and the grassroots of the UCAM and associated and federated clubs. Over 800 people at an unparalleled international event.
María Dolores García, UCAM president, movingly remembered the figure of her husband, and was proud of his legacy: 'José Luis had a special charisma; he had a great love for people, and especially for athletes. He suffered with you when you were injured and took pleasure in your triumphs. This afternoon is an emotional, bittersweet one, but a particularly joyful one too. Some of you have already qualified for Paris and we are still waiting for others to do so.' Alejandro Blanco, president of the Spanish Olympic Committee, who always referred to the founder of the UCAM as 'my brother José Luis' said that 'we are going to remember an exceptional person, who made a great effort; an effort we see here today, year after year. An effort both Spain and the world know, and it is our duty to ensure that, over the years, he becomes a legend and an example for future generations.'
Tribute was also paid to three Spanish sport legends who recently announced their retirement: the weightlifter Lydia Valentín; the karateka Sandra Sánchez; and the basketball player Luci Pascua. Another legendary sportswoman, who is still active and has the goal of reaching the 2024 Summer Olympics is Mireia Belmonte, who also received recognition for her magnificent career at the UCAM CN Fuensanta. Mireia Belmonte is still linked to the university as a student of the Bachelor's Degree in Advertising and Public Relations.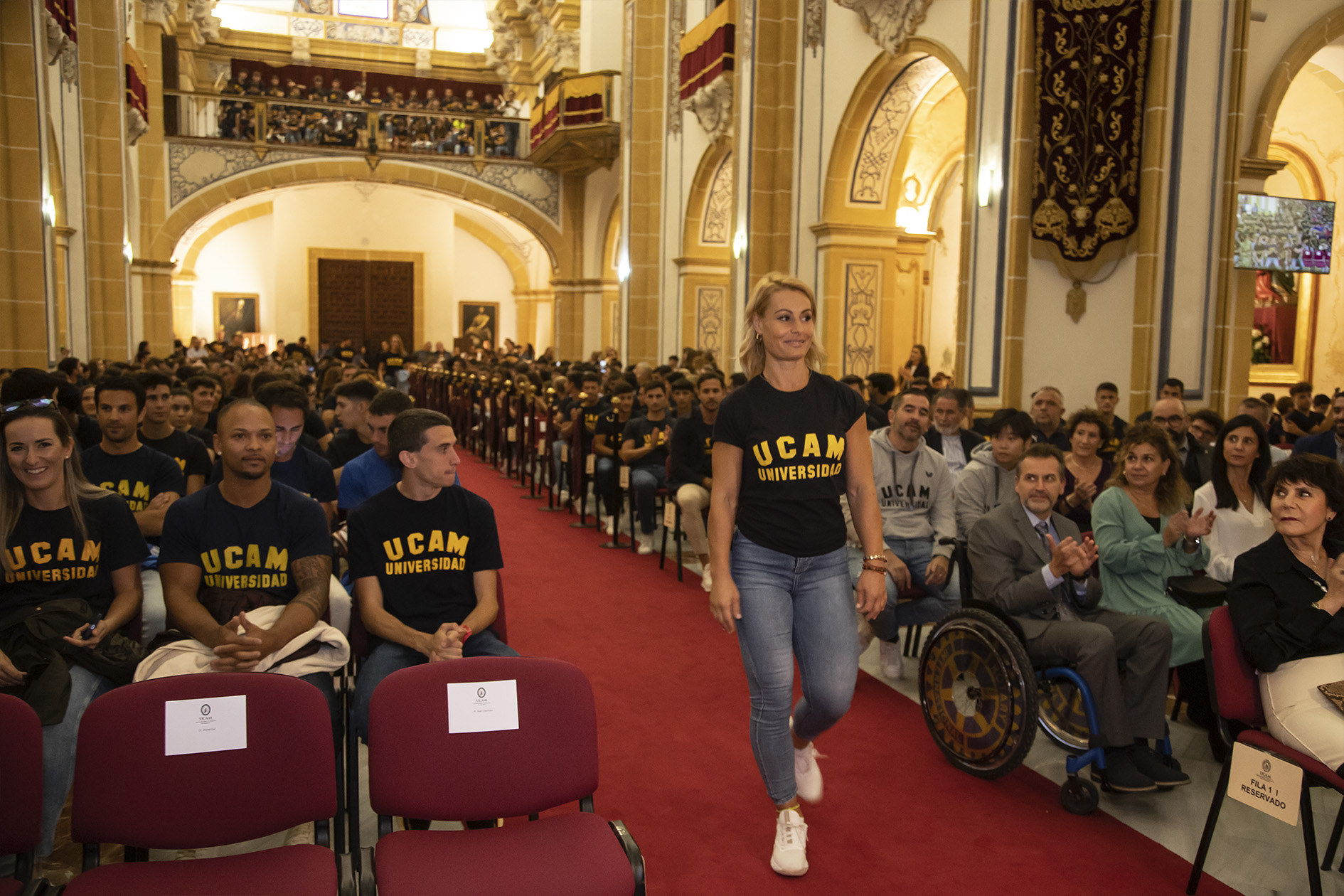 One of the key moments was the awards ceremony for the medallists of the past European Games, World Championships and European Championships. Great champions such as the canoeists Saúl Craviotto and Teresa Portela, the athletes Gerard Descarrega and María Pérez, or the taekwondists Javier Pérez Polo and Raúl Martínez, among others, shone when collecting their awards.
The UCAM sports festival included a tour from the elite to the grassroots, having a look at its own as well as its federated clubs, the university athletes who keep breaking records at the Spanish Championships and the kids who compete every weekend defending the UCAM colours. They all had their spot and moment to be recognised for their efforts and results.
Grateful to the UCAM-COE alliance
The athletes took stock of their great results and looked forward to an exciting season. Saúl Craviotto, winner of five Olympic medals, showed his gratitude to the UCAM-COE project, which is helping Spanish athletes so much: 'They provide a wide range of possibilities, they offer the possibility to study, to study a master's degree, a degree that will unlock a lot of opportunities once the elite sporting life comes to an end.' The swimmer Mireia Belmonte is a good example. With four Olympic medals to her name, she keeps making progress in her Bachelor's Degree in Advertising and Public Relations: 'I am very happy to be here, and I also had the chance of sitting some tests this morning, so today was a busy day.'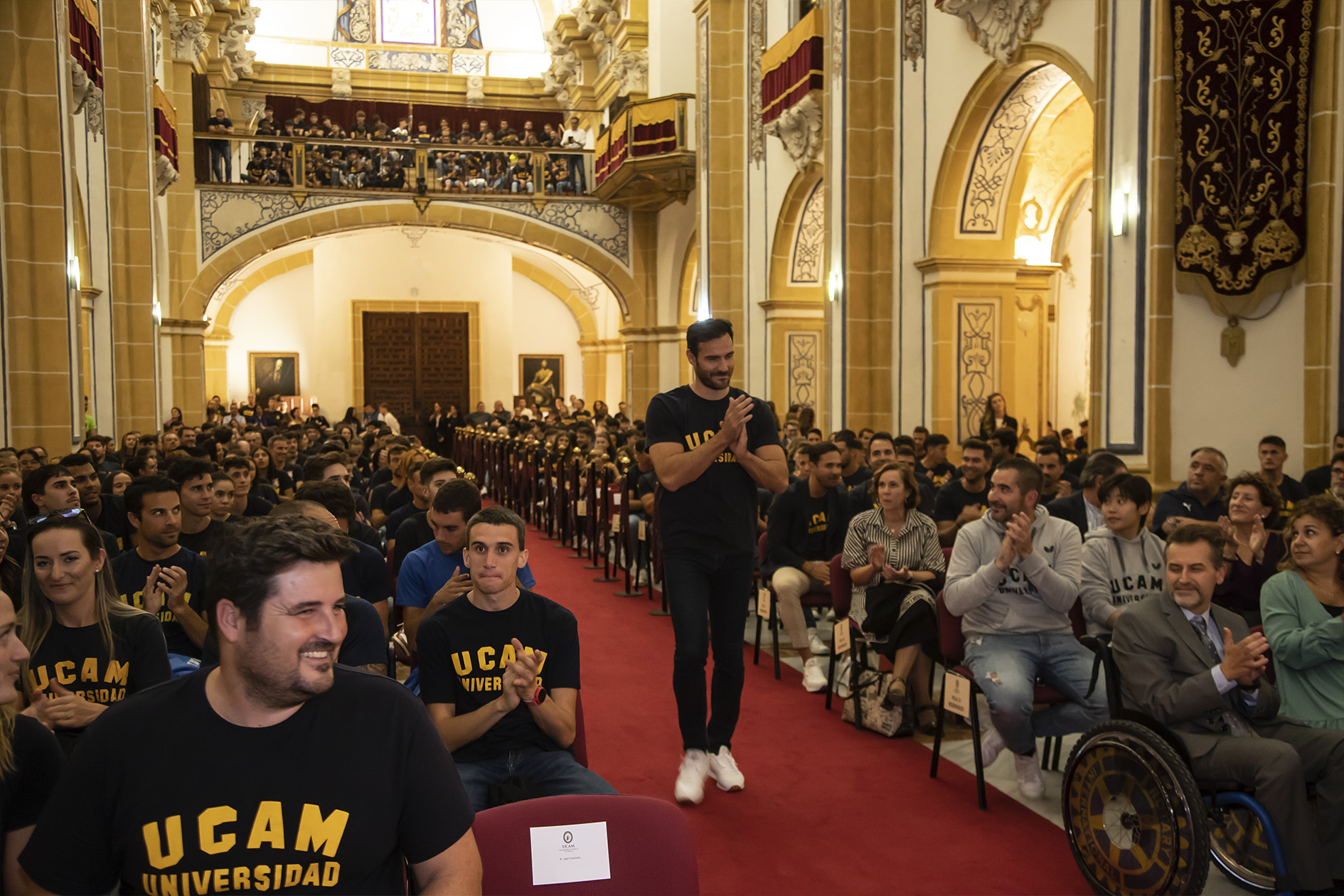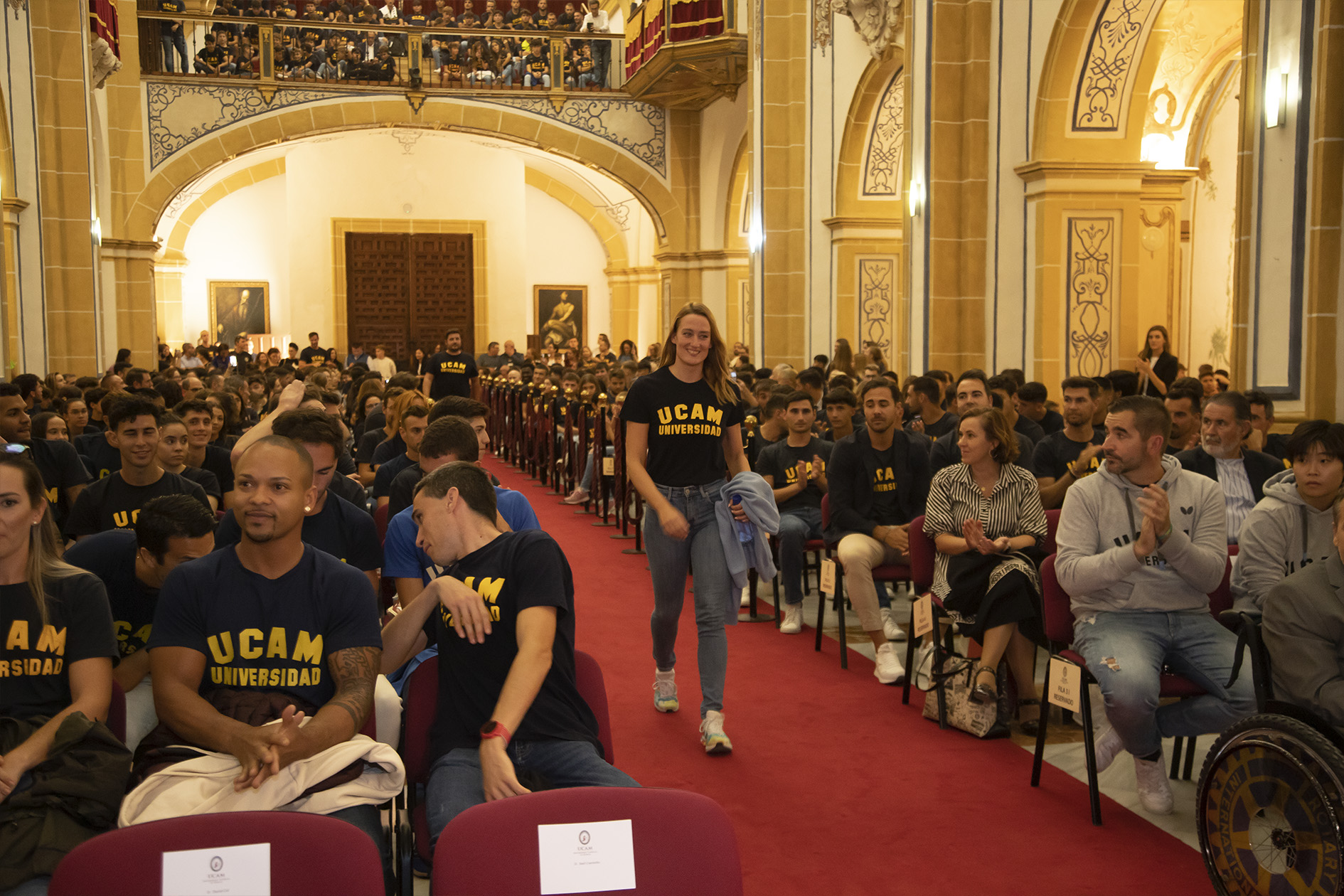 For her part, Olympic runner-up Teresa Portela, who will compete in her seventh Olympic Games in Paris, stated that 'I am very happy to be part of UCAM. It is my club and I study at this University, so I am delighted to share this moment with all my colleagues. UCAM is not only committed to the athlete, but also to the person, to our training and our future. It is so reassuring to know there is someone behind you, backing you and supporting you.'
It has been a day that will go down in the history books of sports at the Univerisdad Católica de Murcia. The first sports gala without its founder, but with the conviction that the legacy and the set route is strong and in the same direction: unconditional support for sports and athletes together with the Spanish Olympic Committee.