'ITM ONLINE', a virtual project for the acquisition of transversal skills, is launched
Composed of 7 training modules with a maximum direction of 10 hours, ITM ONLINE offers modular content adapted to the needs of the students.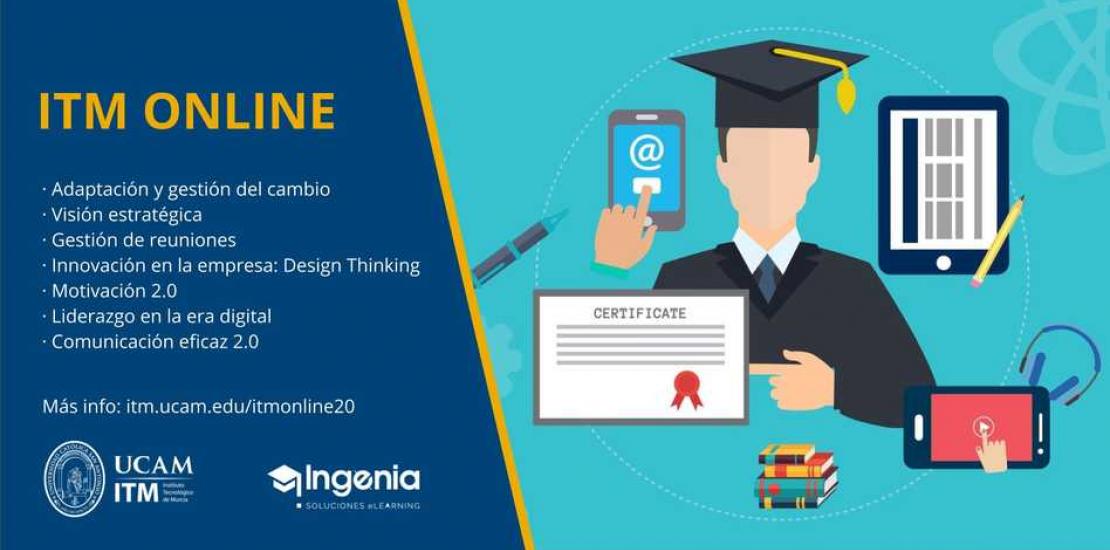 ITM Online begins its virtual training with seven modules
Thu, 07/05/2020 - 19:43
Promoted by the Technological Institute of UCAM Universidad Católica San Antonio de Murcia and in collaboration with Ingenia, a training solution, divided into 7 areas related to communication, leadership, adaptation to change or design thinking, among others, is being implemented within the framework of the ITM ONLINE project, which seeks to provide students with digital tools and ICT in an agile and dynamic way.
The current situation offers us the opportunity to continue our training thanks to the online modality supported by the Technological Institute of UCAM, which has adapted all its activities to the virtual format. These seven pathways work on the skills and development of key abilities in the professional environment and are aimed at the university community of UCAM Universidad Católica de Murcia, as well as at those interested in training in these areas. 
 
ITM ONLINE training pathways:
Effective communication 2.0
Adaptation and change management.
Leadership in the digital age.
Innovation in the company: Design Thinking.
Meetings management.
Strategic vision.
Motivation 2.0
This training will take place during the months of May and June and registration can be done at itm.ucam.edu/itmonline20
ITM ONLINE multimedia materials are based on the use of innovative teaching methodologies and technologies, and can be used from any device. 
The completion of the full programme will allow the recognition of 2 ECTS credits for students of UCAM Universidad Católica de Murcia.
For more information, please contact itm@ucam.edu or call (+34) 968 27 85 67