The UCAM will train more than 4600 foreign students this year
The president of the Catholic University of Murcia, José Luis Mendoza, and the bishop of the Diocese, José Manuel Lorca, welcomed this morning a group of students, all newcomers, from more than 50 countries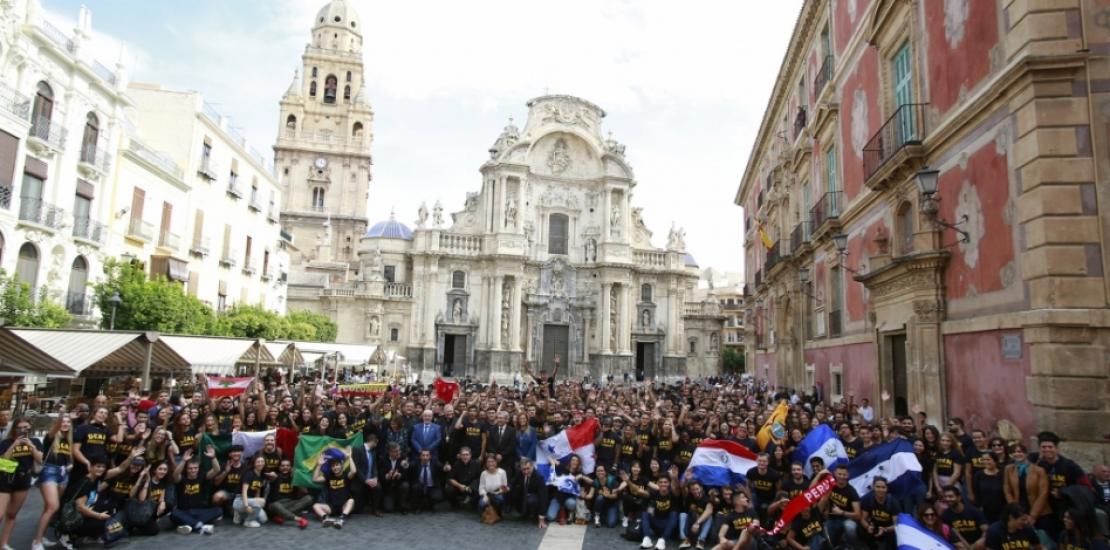 International Welcome 2019 in the Plaza del Cardenal Belluga with a group of the first entry students of this course
Mon, 04/11/2019 - 12:54
With excitement and in an excellent atmosphere of coexistence, the event was held this morning in the vicinity of the Cathedral of Murcia to welcome a large group of foreign students who have just joined the Catholic University of Saint Anthony, both in its campuses in Murcia and Cartagena, so they are newcomers in our country and our Region.
UCAM is expected to train more than 4600 foreign students this year. Nearly 2000 of them will study official degrees (bachelor's, postgraduate and doctorate) and the others will study university-specific degrees. More specifically, 2933 students will study at the Murcia and Cartagena Campuses and 1733 will do so at external and international centres.
At the Bishop's Palace cloister, the president of the UCAM, José Luis Mendoza, addressed the students, welcoming them "to Murcia, a land full of sunshine and life, welcoming, where you will feel at home; we want to provide you with training in values, based on the catholic identity, as well as academic training, which allows you to become great professionals and to take home a great memory of your stay here". For his part, the Bishop of the Diocese, José Manuel Lorca, showed them his joy "for having chosen this land and this university", highlighting "the extraordinary training that you will receive to work for others with an open heart".