UCAM, the University of Sport in Spain
More than 3,000 square feet of sport facilities, 21 teams and 15 Olympic Medals in 2016: these are just some of the numbers that make UCAM the University of Sport in Spain.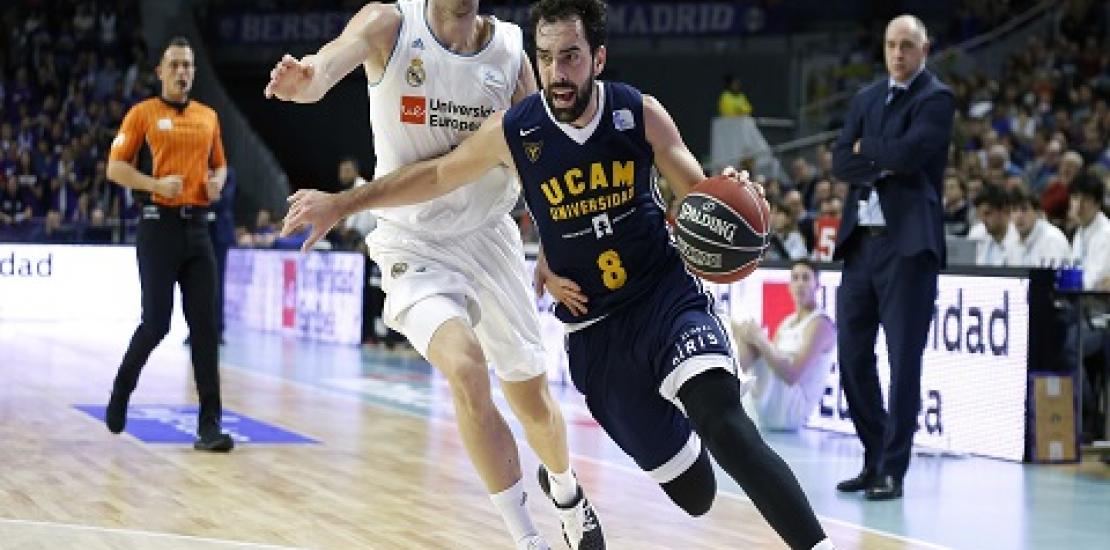 UCAM Murcia Basketball Team - ACB photo
Thu, 18/01/2018 - 13:12
More than 3,000 square feet of sport facilities, 21 teams and 15 Olympic Medals in 2016: these are just some of the numbers that make UCAM the University of Sport in Spain. Following the Anglo-Saxon model, sport is part of the DNA of the University, which counts, in fact, 21 federated teams sponsored or managed directly by the university. In 2017, the UCAM ranked first in the Spanish university medal table with 121 medals. At the Rio 2016 Olympic Games, UCAM participated with 60 athletes, winning 15 medals, thus becoming the second university in the world at the Rio Games for the number of medals.
UCAM Olympic medalists
UCAM's top athletes include Olympic medallists such as Mireia Belmonte, Carolina Marín, Ruth Beitia or David Cal, and World Cup champions such as Miguel Ángel López, Javier Fernández or Mario Mola.
UCAM's patronage of these athletes goes beyond mere sports sponsorship. The University provides comprehensive support for them, so that they can improve their athletic performance whilst granting them an university education that enables them to work in a profession.
UCAM's Teams
UCAM counts on 21 federated teams, it is the only European university with a professional basketball team in the First National League (ACB League, Spain) that also plays in European competition, and a football team in the Second Division B.
The other teams are: Basketball 3×3, Handball, Volleyball, Beach Volley, Futsal, Rugby 7, Canoeing. The Individual Sports are: Karaté, Taekwondo, Judo, Tennis, Table Tennis, Padel Tennis, Badminton, Swimming, Triathlon, Athletics, Cross country running, Golf.
High Performance Sports Research Center
At the Catholic University of Murcia there is an important and growing research activity in the field of High Sports Performance, energized, in recent years, by the incorporation of new research groups. In particular, some of the groups, such as the Optimization of Training, Sports Performance and Physical Conditioning, which coordinates the Biomechanics Laboratory, are international leaders in their area of ​​activity.
Infrastructure And Sports Facilities
The heart of the university's sports facilities is UCAM's Sports Center, a hightech gym accessible to both university students and local communities. UCAM Sports Center offers 3,000 square feet of facilities. With these facilities, the UCAM increases and strengthens the ongoing commitment it has had to sports since the beginning. In fact, UCAM also offers to all the International  students a welcome pack (total cost 300 euros) which includes, among other services, UCAM Sports center membership, season tickets UCAM CB Basketball and UCAM CF football.
Condomina Stadium is the university's football stadium, home ground of UCAM Murcia Football Club. Inaugurated in 1924, it is located in the heart of the city of Murcia, next to the Plaza de Toros (Murcia's bull-ring). This stadium has a maximum capacity of 16,000 spectators.
Sports Palace of Murcia is a sports hall used mainly for basketball and football. The site serves as headquarters for UCAM Murcia Basketball Team and El Pozo Murcia's futsal team. It has a total capacity of 7,454 spectators, extendable to around 9,000 extra tiered. It was designed by architect Miguel Angel Beloqui and built in 1994.
UCAM Sports Management University
The purpose of this new institution is to play a significant role in the current sports world by training highly qualified professionals that fill the technical and management areas of football clubs. Combines theoretical and practical training by means of a highly qualified both scientifically and professionally faculty and the personal experience acquired from professional practices and scheduled visits to nationally and internationally renowned sports premises and clubs.