UCAM, together with Tressis, creates a fund aimed at social purposes
The San Antonio Management Fund, UCAM's endowment, through contributions from companies and individuals will be used for research, scholarships, sports, culture and volunteering, as well as part of the university's patronage.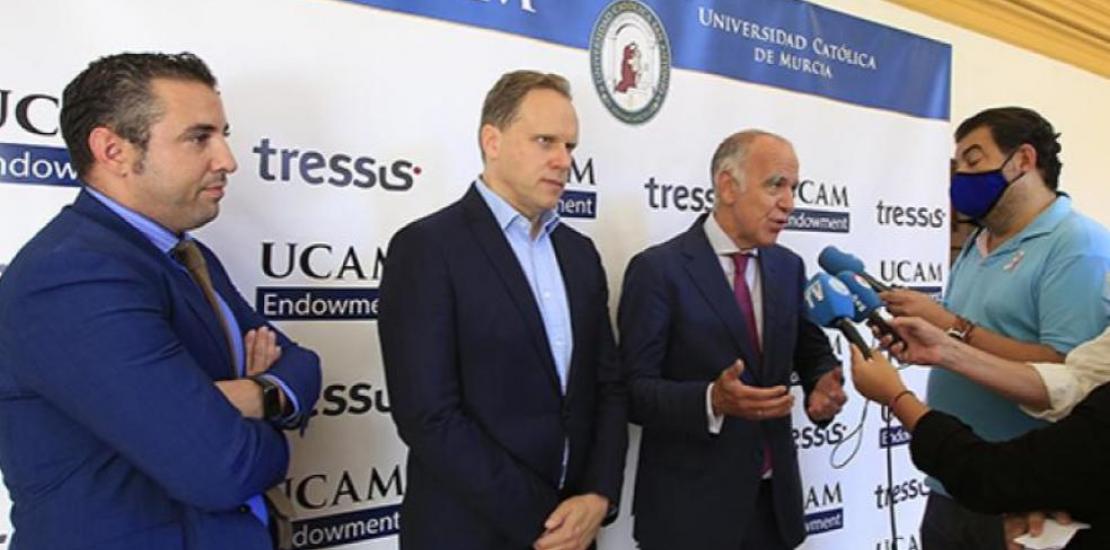 José Luis Mendoza García, Director of Institutional Relations of UCAM; Daniel Lacalle, Chief Economist of Tressis, and José Miguel Maté, CEO of Tressis, addressing the media attending the event.
Wed, 20/10/2021 - 20:15
This morning, at the Los Jerónimos Campus, UCAM, together with the financial institution Tressis, presented the San Antonio Management Fund, an endowment that was created with the commitment to create wealth through scholarships and financial aid destined towards different areas such as research, culture and sport, among others. To this end, both companies as well as individuals can make donations that will be used for the purpose they choose, such as scholarships for students and athletes or research, infrastructure and facilities, as well as volunteering. Representatives of companies from different industries attended the presentation ceremony. 
José Luis Mendoza García, UCAM's Director of Institutional Relations, stated that the endowment is "a fund that invests in equities and whose profitability is allocated to the social purposes and patronage of the university institutions. This generates a great local impact, as we are witnessing in the UCAM environment.", he also added that "this initiative will boost the projection of research, while adding value to society and the local industries around us". 
José Miguel Maté, CEO of Tressis, the entity that manages the fund, stated "today is a special day for Tressis as we officially present the launch of the UCAM endowment as a result of our alliance. Our mission is to help our clients achieve their life goals, so advising the endowment's portfolio, which has very clear objectives, is perfectly aligned with our understanding of financial planning and wealth management. In addition, the long-term perspective allows us to include the trends we believe in: demographics, technology and sustainability, integrating socially responsible investment criteria into the portfolio's composition from the outset. 
Daniel Lacalle, chief economist of Tressis, in addition to participating in the event, presented his latest book 'Freedom or Equality' to hundreds of students from the areas of business, communication and marketing at the Universidad Católica. Regarding the publication, he remarked that it "offers a framework for people who, without in-depth knowledge of economic matters, can debate and reflect in a different manner with respect to the daily dogmas they try to pass off as unquestionable".
Projects in which to participate 
Through the endowment it is possible to collaborate with different projects such as the research led by the scientist Juan Carlos Izpisua, for the cure of multiple sclerosis; the field of sport, promoting grassroots sport; or in different volunteer programmes which UCAM carries out in underprivileged areas of the world. Contributions, which offer tax benefits, can be made through the web endowment.ucam.edu 
About Tressis
Tressis (www.tressis.com) is the leading independent securities firm in wealth management and financial planning with client assets of more than EUR 5.15 billion (December 2020 data). Founded in June 2000, it is made up of a team of professionals with extensive experience in the financial sector and a network of agents nationwide, as well as institutional clients. It has a wide selection of products, portfolio management services, wealth planning, financial advice and brokerage. The entity is present in Madrid, Alicante, Barcelona, Cordoba, Las Palmas de Gran Canaria, Logroño, Lleida, Seville, Santander, Valencia, Bilbao, Palma, Valladolid and Pontevedra.