UCAM and Incyde Foundation promote entrepreneurship in the Region of Murcia
This week, the entrepreneurs who were trained in the five training programmes developed in the last three months by both institutions, who renewed their agreement to develop joint actions next year, received their diplomas.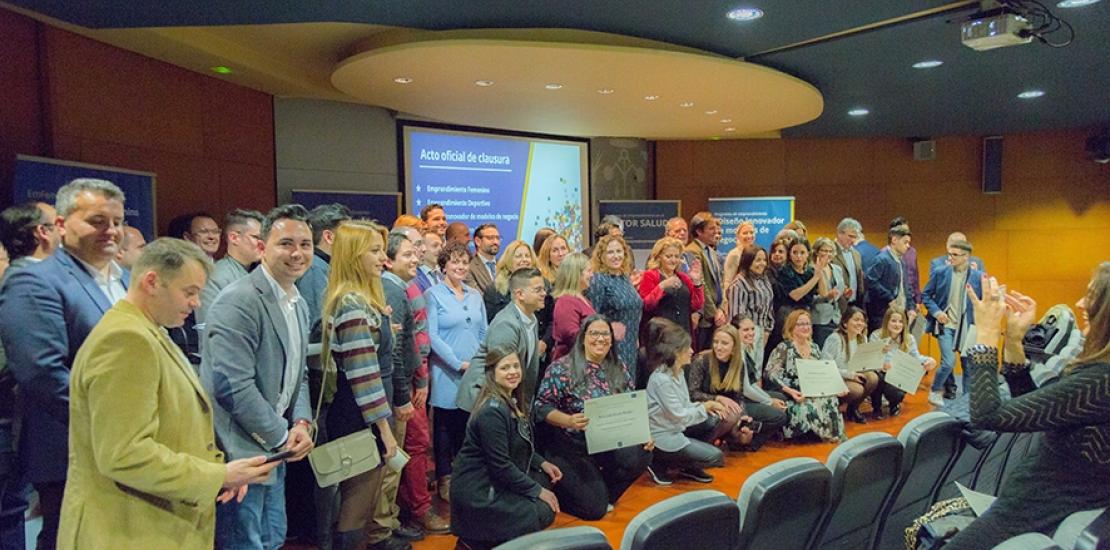 Instant of the closing ceremony of the programs
Thu, 09/01/2020 - 15:51
Yesterday, UCAM Universidad Católica San Antonio de Murcia, through its Murcia Institute of Technology (ITM), together with  Incyde Foundation, celebrated the closing ceremony of the five entrepreneurship programmes taught during the last three months, which focused on the field of sports and esports, health, new business models (promoted by the International Chair of Innovation of UCAM) and 4.0 industry; to them, we must add 'EmFemenino', organised by the UCAM's International Women's, Company and Sports Chair and that celebrates its sixth edition. During their training period, they were all able to develop their business ideas, thanks to the specialisation of the consultants they worked with jointly and to their personalised attention methodology. All the programmes have been developed for free, co-financed by the European Social Fund.
From an art and fashion webpage to an air purification system in lifts
During the development of the event, in which interventions were made, among others, by César Nicolas, executive director of ITM, Javier Collado, director general of Incyde Foundation, and the directors of the different programmes, the diplomas were delivered to those who participated in the event. Furthermore, during the ceremony, various projects were presented, as an example of the work developed: innovative ideas such as 'TRIMEY', a webpage which mixes art and fashion; pioneering ideas such as 'WAMERS', which aims at giving visibility to women in esports; 'C.A.L.M SHIPPING TRAINER', innovative and strategic actions in management - distribution of e-commerce logistics; 'CardioRiesgo', a consultation and information application both for the professional and for the user; and 'EIPO3', a Device-system of air sanitisation and purification in lifts, which is currently being installed and with a strong demand.
It must be noted that UCAM and Incyde Foundation renewed their collaboration agreement this morning to continue developing joint projects for the following year. The agreement has been signed by José Luis Mendoza, president of the University, and Javier Collado, Director General of Incyde Foundation.
UCAM graduates, at the forefront in business creation
The University Entrepreneurship Observatory, promoted by the Rector's Conference of Spanish Universities (CRUE), concludes that one in ten students of UCAM Universidad Católica San Antonio de Murcia creates a business during their training period, a percentage higher than the national average (4.9%). Furthermore, the employability index of the graduates of UCAM Universidad Católica San Antonio de Murcia is 70%, according to the data of the Occupational Observatory of the institution itself, and the Bachelor's Degrees in Business Administration and Management, Criminology, Physiotherapy, IT Engineering, Telecommunication Systems Engineering, Civil Engineering and Tourism exceed this percentage.