Students of the Universidad Latinoamericana in Mexico will be trained at UCAM
Following the signing of an agreement, the vice-chancellor of International Relations at UCAM, Pablo Blesa, stressed that "in addition to summer courses and receiving mobility students, we want to create double degrees and postgraduate courses with this Mexican university and foster research and the relationship between teachers".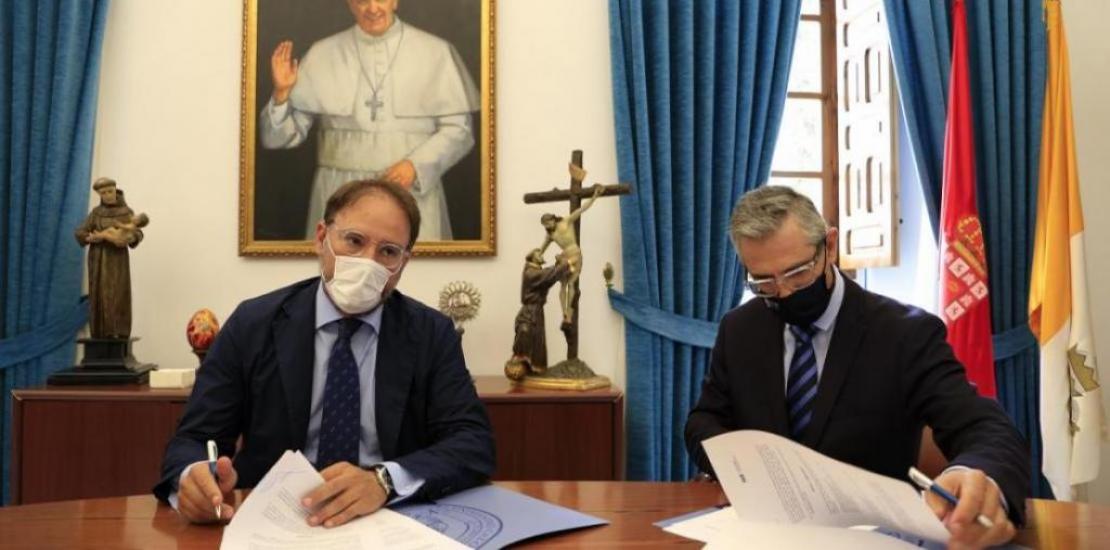 Signing of the agreement
Thu, 24/09/2020 - 16:50
The Universidad Latinoamericana has signed an agreement with UCAM Universidad Católica San Antonio de Murcia to allow students from this Mexican University to spend a semester at UCAM, as well as to extend collaboration in new areas: double degrees, short-term programmes...
In this regard, the Director of Internationalisation of the Universidad Latinoamericana, Enrique Cortés de Abajo, explained that "we intend to build bridges to generate value, both for students here and for Mexican students to come and get to know this land and this university, to improve their academic expectations and, to a certain extent, to work together to generate value for our teachers, our students and both institutions". 
Cortés de Abajo stressed that, for the Universidad Latinoamericana, this agreement means "finding really reliable and trustworthy allies in Spain, not only to come to study on a temporary basis or to do some exchanges, but also so that the students have UCAM Universidad Católica San Antonio de Murcia as a definitive option to finish, for example, their training cycles, in Master's degrees or other specialisation courses".
For his part, the vice-chancellor of International Relations at UCAM, Pablo Blesa, explained that the Universidad Latinoamericana "is a prestigious university of fundamental importance on the Mexican university scene, and this cooperation agreement is going to be monitored and implemented in a very immediate and fruitful manner because they clearly aim to ensure that their students move around and travel".