QS Stars Rating certifies the UCAM's educational model of excellence
The British consultancy firm recognises its strengths in teaching, inclusiveness, social responsibility, internationalisation and outstanding programmes
Mon, 14/12/2020 - 18:07
UCAM has been awarded an overall score of four stars out of a maximum of five by the prestigious company Quacquarelli Symonds (QS), which specialises in analysing higher education institutions across the world. QS Stars Rating distinguishes it especially for its teaching model, social responsibility and the inclusiveness of its university campuses, and also values it with a high score on employability, internationalisation and outstanding programmes.
Learning system
In the Teaching category, UCAM has achieved the highest score, with a high level of satisfaction among its students. QS Stars Rating highlights the ratio of students per teacher and the additional training it offers. The study supports the educational model of excellence applied by UCAM Universidad Católica de Murcia, focused on personalised attention with academic and personal tutors and small groups.
This teaching system has as a result a high percentage of employability, which this rating puts at 83.2 % of the graduates. In addition, the number of entrepreneurs is double the national average. This indicator and that of the supports and services offered by the University for the practical training of its students award it four stars in the QS Stars Rating in the Employability category.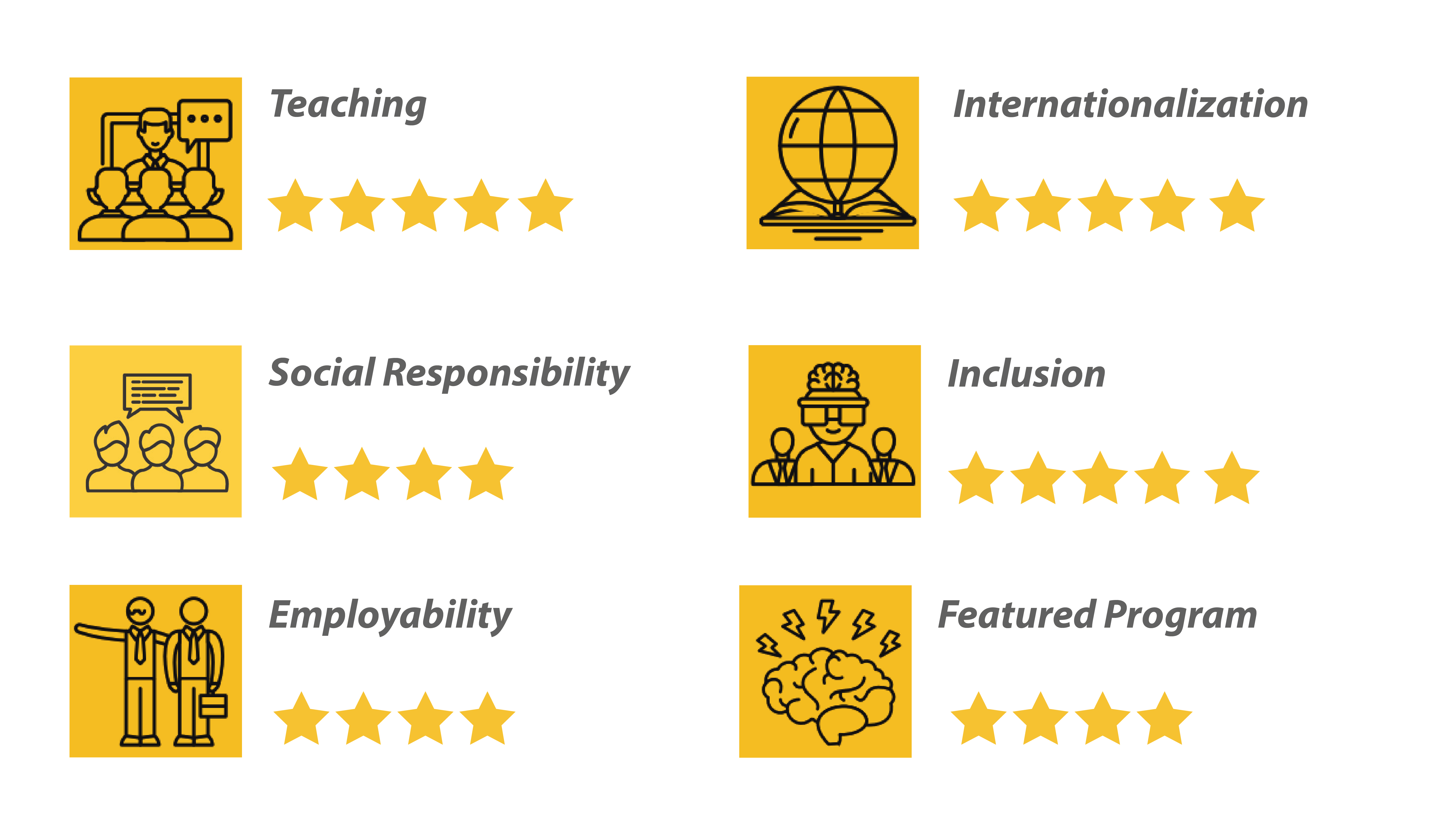 Multicultural campus
UCAM has an international projection that is guaranteed by the different rankings, such as the latest one by Times Higher Education or the one issued by Fundación Conocimiento y Desarrollo. QS Stars Rating has added to these recognitions, standing out with the highest qualification in Internationalisation. UCAM excels in the indicators regarding diversity, support for international students, collaborations and exchanges.
Leader in sport
UCAM, which is internationally recognised for its firm commitment to sport, is rated with four stars in the category of Outstanding Programme, for its Master's Degree in Management of Sports Entities, from which the ratio of students, its internationalisation and an employability rate of 91% are particularly qualified.
Social and inclusive university
The commitment to society of the Catholic University is one of the elements that identify it, obtaining a high score in this area. The rating highlights the amount of funds it allocates to the community and to charitable projects, and highlights other indicators such as its human capital. The accessibility for the disabled, the number of scholarships and the diversity of a multicultural campus have awarded it a 5-star rating in the category of Inclusiveness.