The patent for an anti-tumour drug is being developed in the Region of Murcia, with clinical trials to be carried out on a global scale
The researchers belong to the Universidad Católica de Murcia, the Murcian Institute of Biosanitary Research and the University of Granada.
The imipramine-treated group of mice (right) develop smaller tumours than the control group (left).
Fri, 26/03/2021 - 13:27
UCAM, IMIB and the University of Granada have presented new results of their study to search for drugs that act against the migration and invasion of tumour cells, which has led to a patent.  Following the success of the in vitro and animal research, clinical trials on cancer patients will soon begin. 
Using computational chemistry techniques on supercomputers, the researchers have tracked different drugs and have found a new use for the antidepressant drug imipramine as an inhibitor of fascin1, a protein whose overexpression is associated with colorectal and breast cancers with very poor prognosis and which, in most cases, have no specific anti-tumour therapy. Using fish and rodent animal models, researchers have shown that by blocking fascin1 with imipramine, these tumour cells become less invasive and less metastatic.  
Worldwide clinical trials  
Following the discovery of this new use of imipramine, in vitro trials began and the success observed in zebrafish models led the researchers to protect their findings with a patent. Subsequent studies in mouse invasion models have confirmed the anti-tumour activity of this drug. Work will soon begin on clinical trials on cancer patients in the region, thanks to funding obtained through a call for proposals from the Carlos III Health Institute.  
In addition, through the OTRI Office for the Transfer of Research Results of the Universidad Católica de Murcia, the patent has been licensed to the American company 'Ennaid Therapeutics', which will allow clinical trials to continue and its commercial exploitation not only in EuropeSome of the researchers of the imipramine patent, as until now, but also in the USA, Canada, Australia and Japan.   
Researchers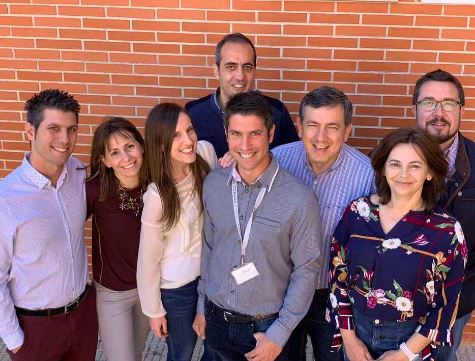 The development of this patent has been possible thanks to Pablo Conesa, from the Santa Lucía University Hospital in Cartagena and group leader of the IMIB and Horacio Pérez, member of the BIO-HPC Research Group of the UCAM, together with researchers from the University of Granada Irene Luque, Javier Ruiz and José Cristóbal Martínez. Also working from IMIB were Manuel Bernabé, María Luisa Cayuela, Ángel Bernabé, Juan Cabezas and Francisco José Nicolás; and from UCAM, Silvia Montoro and Begoña Alburquerque. 
Protocol code: IMIB-htf-2021-01
EudraCT: 2021-001328-17