Monsignor Lorca Planes holds the Advent and Christmas speech
The bishop of the Diocese of Cartagena also carries out the blessing of the University's nativity scene placed in the cloister of the Los Jerónimos Monastery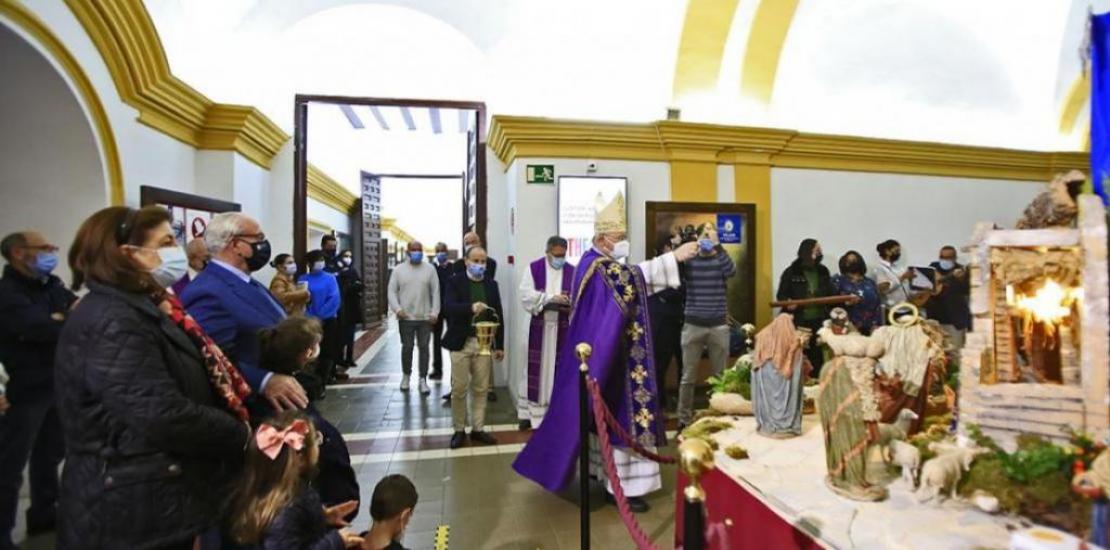 Moment of the blessing of the nativity scene in the Cloister of the Monastery
Tue, 22/12/2020 - 15:49
The traditional Advent and Christmas Speech of UCAM Universidad Católica de Murcia, held by the bishop of the Diocese of Cartagena, monsignor José Manuel Lorca Planes, took place this Monday at the temple of the Los Jerónimos Monastery. On this occasion, it was carried out according to the measures of health protection established by the protocols, due to the current pandemic.
Lorca Planes invited those who were present to live this Christmas intensely, "because there is going to be Christmas this year as well". "Enjoy God and wish to your relatives and friends a happy encounter with the Lord. Happiness is a gift of God" - said the bishop of the Diocese - "There will be difficulties, but God will give us the strength to go out and meet him with faith and courage to help with charity our brothers who are suffering".
José Luis Mendoza, president of UCAM, accompanied by his family, attended the celebration together with the chancellor, Josefina García, some members of the Foundation and of the university community. The president of the University, who asked to live in faith and to give witness by example, highlighted  "the importance of having Jesus Christ among us" and encouraged to "be happy, as a sign of being Christians".
The event ended with the blessing of the nativity scene placed in the cloister of the Los Jerónimos Monastery.